What is a Payment Page?​
The Payment Page is the easiest way to collect payments with Nimbbl in minutes without any coding! The Payment Page can be branded as per your brand theme and has a custom URL slug such as indie-sportz, this will be visible on the page as https://pages.nimbbl.biz/indiesportz. You can create as many different pages as you want.
You can choose to create a page for a fixed or custom amount. In a fixed amount page, every customer will be able to pay only the fixed amount, whereas in a custom page, the customer can enter an amount that they want to pay.
After the page is created, you can simply share the link with who ever needs to pay you. You can also send it in emails or SMS.
How to Create?​
TIPS TO BUILD TRUST
Customising your page with your brand logo, brand URL and colour theme.
Adding 'Terms & Conditions' and 'Refund Policy'. Your customers can view these links below the 'Pay Now' button.
You can write to your key account manager or help@nimbbl.biz to get a payment page created for you. Please provide us the following information
Brand URL Slug - this should follow the standard url format. Use - to separate words eg: indie-sportz
Logo, Brand Name & Colour - The logo image should be at least 200x200 pixels. Please provide the colour hex code (6 characters)
Fixed or Dynamic Amount - if the amount is fixed, please share the amount that needs to be configured.
Terms & Conditions and Refund Policy - you can share a link or a document.
Once your page is created, it will look like the page displayed below. Your customer will need to enter the mandatory details required (name, email, mobile, amount) and then click on Pay Now. This will open the page for them to enter their payment details.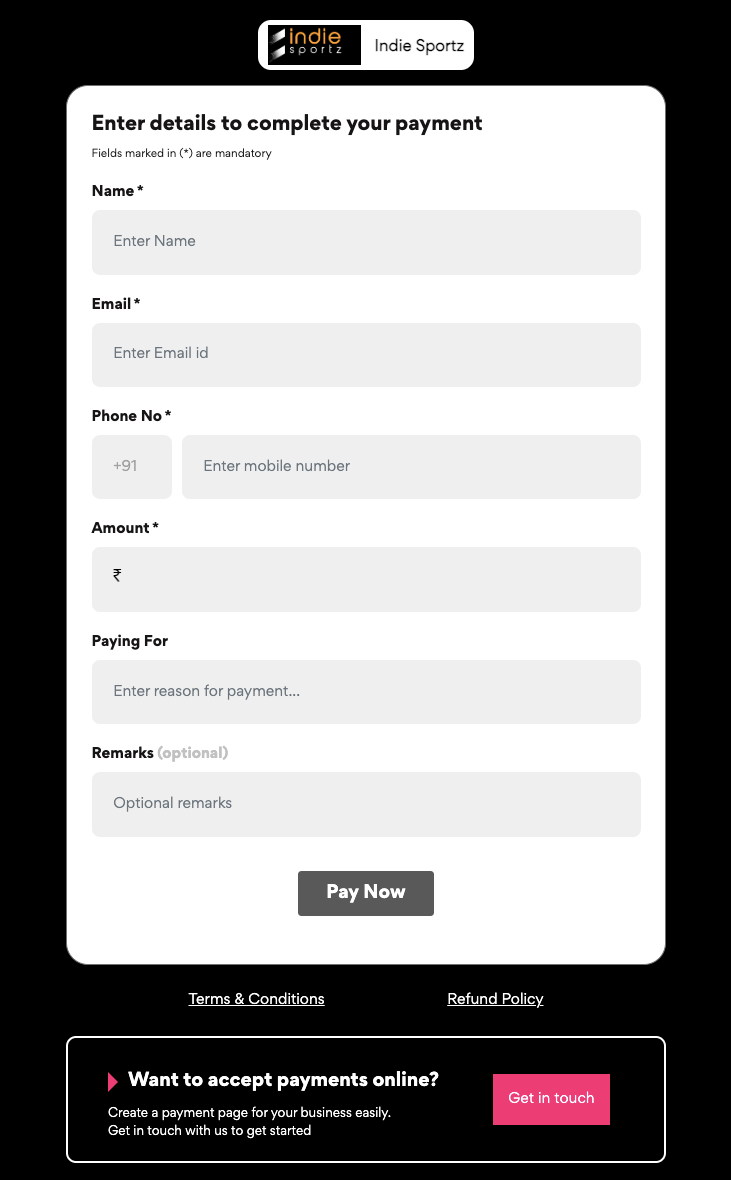 info
It may take up to 1 working day to create your page
Approvals from your payment partner may take longer and depend on the documents you have submitted
How to Share?​
There are many ways in which to share your payment page URL with your customers
Share with customers via WhatsApp, SMS, Email, and more.
Embed a Pay Now button in your website, when customer clicks pay redirect to the payment page.
Convert the page URL to a QR code and share with your users.
info
If you need any help in embedding the link in your website or converting to QR, mail us on help@nimbbl.biz