While setting up your eCommerce store, one of the most important things to consider is the payment gateway. It is a third-party tool that can be integrated into your website for processing online payments. WordPress has a range of high-quality payment gateway plugins to create a reliable payment gateway system on your website and make customer transactions smooth. There are plenty of WordPress payment gateway plugins available today, which makes choosing the one that meets your requirements quite tough. However, this list of seven of the most efficient plugins can help you narrow down on a plugin with functions and features that best suit your specific requirements. Some of these WordPress payment gateway plugins are free, while others come with paid plans. Let us explore your options in detail. 
Content Index
What is a payment gateway plugin in WordPress?
A WordPress payment gateway plugin is a third-party source used to receive and process payments for all kinds of online transactions. Using a payment gateway is a much easier process for collecting payments when compared to the manual process of using a contact form or via offline payments. You can leverage the benefits of using payment gateways by simply connecting a payment plugin to your WordPress store. All you need to do is choose the right WordPress payment gateway plugin with good security features and a superior customer experience.
Factors to consider when choosing a payment gateway
Here are the four common and critical things to consider when choosing a payment gateway for your WordPress store:
Customer experience
Your customers be able to complete their purchase in a personalised, friction-free and one-click checkout manner without requiring multiple OTPs, passwords and logins.
Payment method coverage
Be aware of the most used payment methods liked UPI and trending fast payment methods like BNPL.
Documentation and onboarding
Check for the onboarding process and the documents required. Providers like Nimbbl, help you onboarding on multiple leading payment aggregators in one go.
Conversion rates
For your business to grow it is important that you select the checkout flow addressing cart abandonment issues and helps you improve conversion rate.
Pricing
Checkout charges play an important role in choosing the right payment partner. Choosing a provider with transparent pricing with settlements in one dashboard is ideal.
7 Amazing Payment Gateway Plugins Available for WordPress
A payment gateway is extremely important for your eCommerce store as it handles the crucial function of receiving payments for the products you sell in your store. Check out 7 of the most amazing WordPress payment plugins that can help you offer a superior customer experience while receiving payments effortlessly.
Stripe
Stripe is one of the most popular payments company globally. It offers a free WordPress payment plugin which is suitable for all devices, including desktops, mobiles, tablets, etc. Furthermore, this plugin does not require the customer to visit any external page to complete the checkout process, making the payment process faster and easier. What's more, there are no fees or hidden charges. 
Features
Supports multiple currencies
Seamless banking transaction
No setup fees or hidden charges
Supported in different countries
Credit card supported
Free to install
Nimbbl
For Indian businesses, Nimbbl WordPress plugin provides higher conversions and multiple payment gateway providers like Razorpay, PayU, Cashfree, Paytm, CCAvenue with one account. It provides your customers with a one-click checkout experience on popular payment methods like BNPL, UPI. You get the leading BNPL providers like Lazypay, Simpl, Ola post paid, ICICI pay later, Paytm post paid and others with Nimbbl.
Features
One-click checkout experience
Innovative Magik UPI flow for UPI payments
Multiple payment aggregators supported
Fast and clean payment page
Free to install

Paymattic
Paymattic (formerly known as WPPayForm) is a popular global player for donations and subscription payments. It comes with a built-in form builder functionality and uses Stripe to process payments. With the premium version, you can explore a lot of possibilities. You can also get a host of additional payment gateway in the premium version with advanced reports and analytics.
Features
Multiple payment gateways support
Mobile-friendly checkout process
Multilingual support
Custom currency feature
Shortcode facility and more
Single site license: $59
Razorpay
India's leading payment solution company, Razorpay allows businesses to accept, process, and disburse payments efficiently through their product suite. It includes all popular payment modes, including credit and debit cards, mobile wallets, UPI, etc.
Features
Simple payment collection
Mobile responsive interface
Coupon code support
International payment support
Secure platform
Free to install with processing fees
Cashfree
Cashfree is a popular payments company with a free WordPress payment plugin that lets you send and receive money easily. It can be used for marketplace payouts, early settlements, bulk refunds, etc.
Features
Scalable payments solution
Secure platform
Multi payments channel
Easy payout releases
Free to install with processing fees
PayU
PayU is one of the most popular payments solution company in India. It provides a wide range of payments solution and payment methods for eCommerce businesses.
Features
Easy installation
Highly customisable
Range of payment solutions
Free to install with processing fees
Paytm
Paytm is one of the popular digital payment solution providers. It is secure and supports a range of payment options. Besides, it is home to a variety of services, including money transfer, recharge, ticket booking, bill payments, etc.
Features
Secure platform
Easy payment transfer
UPI, debit/credit card support
Merchant payment support
Free to install with processing fees
How to Add a WordPress Plugin to Your Website
You can add Nimbbl as your payment gateway plugin on WordPress. Here's how to do it:
Prerequisites – You should have registered with Nimbbl and have received your test access key & secret key. If you haven't registered with Nimbbl, please sign up here and our team will reach out to you.

Download the latest Nimbbl WordPress plugin. 
Upload zip file to your /wp-content/plugins/ directory.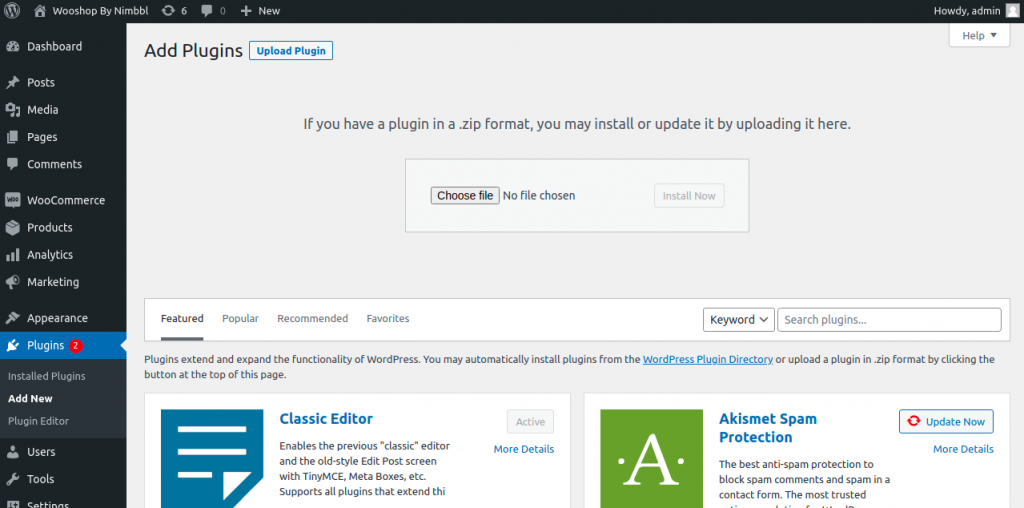 Now, login to your WordPress account and activate your Nimbbl checkout plugin in the WordPress Plugin manager.

Then, log in to your WooCommerce account. Click on Settings > Payment tabs.
Next, click on Nimbbl checkout and enable the payment method.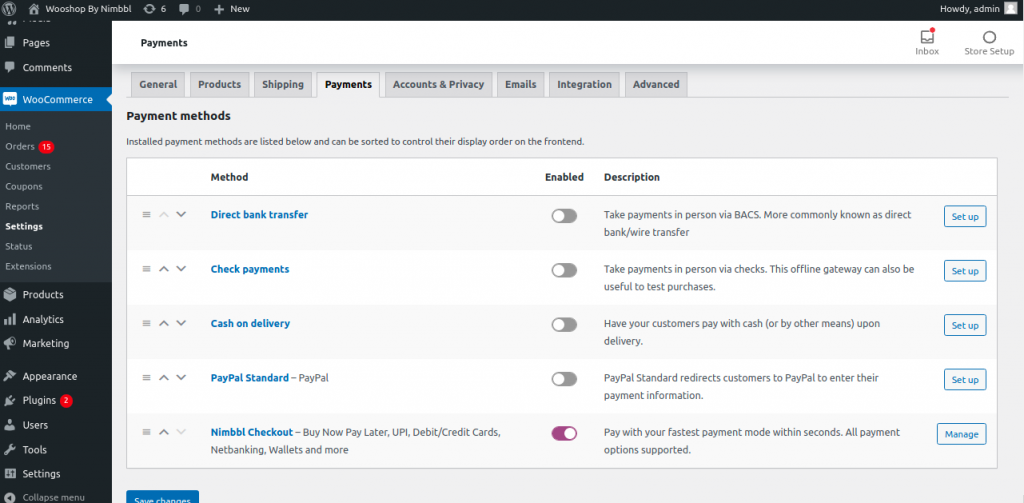 Now, add your test key_id and secret_id generated from the Nimbbl dashboard.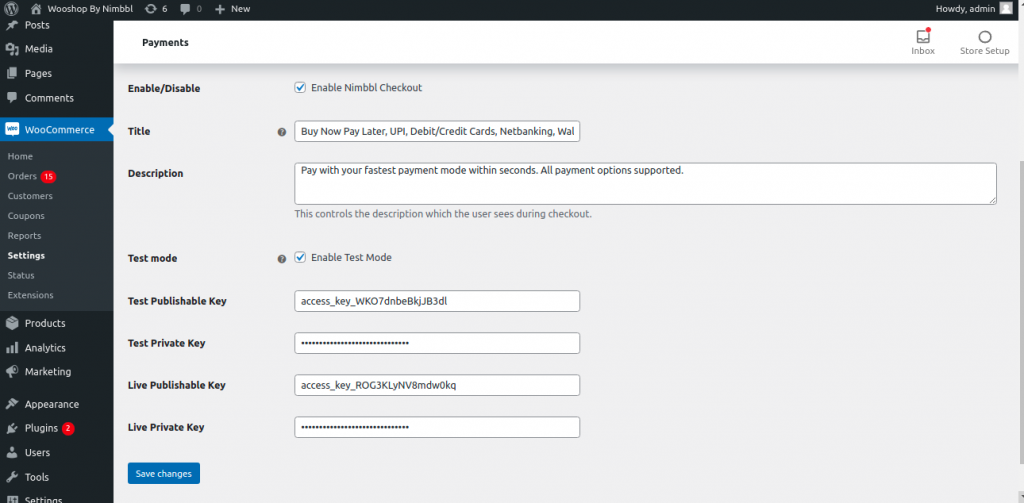 Once the test mode for the Nimbbl plugin is enabled, you are ready to go live with your WordPress payment gateway plugin.
Conclusion
Different WordPress payment gateway plugins follow different processes for online payments and transactions. While each WordPress plugin is unique, the idea is to choose an overall package to help you make the most out of the WordPress payment gateway. With the right payment plugin, you can receive the payments more effectively, thus boosting your eCommerce store's success. The right WordPress payment plugin can increase your chances of being trusted by your customers.
To know which payment gateway is the best for you, you must keep in mind certain things, including the processing fee, availability of the plugin in your region, any hidden charges, recurring payments, etc. Once the plugin fits your criteria, you can move ahead with integrating it into your website. You signup on Nimbbl to offer wow user experience to you customers reducing cart abandonments. It supports various payment integrations, including credit/debit cards, UPI, Buy Now Pay Later, etc., to offer users a wide range of choices.

FAQs
Does WordPress have a payment gateway?
Yes, WordPress has numerous payment gateway plugins that offer secure payment integration and plenty of benefits to the users.
How do I accept payments on WordPress?
You can accept payments on WordPress by adding payment plugins to it. You can find this option in your WordPress dashboard.
Are payment plugins safe in WordPress?
Yes, payment plugins are safe in WordPress. Security protocols may vary slightly with every provider. You can check the security measures before integration.
What payment methods are available on WordPress?
All major credit and debit cards, netbanking, email, wallets, fast payment methods like BNPL, UPI, are supported on WordPress.