The eCommerce industry has grown leaps and bounds in the past few years. Customers prefer the convenience of shopping online from the mobile at their fingertips. All kinds of purchases are being made online, right from daily essentials like dairy, vegetables, and groceries to high ticket-sized electronics products. Faster internet, affordable smartphones and the pandemic have accelerated eCommerce growth. The recent industry revolution is the Buy Now Pay Later (BNPL) – the payment method that looks poised to overtake credit card purchases. As per data, BNPL has led to an 18% decline in credit card transactions. Banks, NBFCs, fintech, eCommerce giants, etc., are joining hands to offer BNPL as a payment method.
Yet, business owners are still confused between the two similar options and wonder how BNPL is different from a credit card. More remain confused about what to offer to their customers when it comes to BNPL vs Credit cards. In this blog, we'll compare Buy Now Pay Later with Credit Cards. Which one should you offer for your business? Let's find out.
Content Index:
What is Buy Now Pay Later?
Before moving into the BNPL vs credit card discussion, let us understand the system thoroughly. BNPL is a payment method used by various online businesses. Each BNPL strategy is unique to the users; however, there are specific common points. The idea behind Buy Now Pay Later is simple: allow customers to purchase instantly using the BNPL method and then add a repayment cycle with all purchases stacked together. It is like short-term financing that allows customers to make repayments in full or in parts.
As the name suggests, using the BNPL option, customers can purchase a product and pay for it later in certain instalments. Depending on the BNPL flavour, you can offer customers a no-interest or low-interest period or other types of pay later options. The facility is easy to avail, and there are no heavy eligibility requirements for it. A mix of traditional, alternate data points is used to sanction eligibility and credit limits for a customer. Moreover, your customers don't need a physical card to avail of the benefits of the BNPL feature.
Leading BNPL players in the Indian market
Amazon Pay Later
Flipkart Pay Later
HDFC Pay Later
ICICI Pay later
LazyPay
Ola Money Postpaid
PayTM Postpaid
Simpl
ZestMoney
What is a credit card?
A credit card is a physical card issued to customers after a thorough check of their credit score. Customers can avail of credit on a certain amount of money from a bank or other financial institution using a credit card. However, the card issuer needs assurance that the customer will repay the amount in the said period. Failure towards the same will degrade the customer's credit score, creating hurdles during future loan/credit sanctioning. It is used to make online purchases, bill payments, high ticket size purchases, and to avail interest-based EMI facilities.
Credit cards are of two types – secured and unsecured. A secured credit card is where customers are asked for a security deposit to protect the issuer against repayment defaults. On the other hand, unsecured credit cards do not need any security deposit and offer better terms. However, if your customers have a poor credit score, they might not qualify for unsecured credit cards and need to apply for secured cards.
How is BNPL different from a credit card?
BNPL is the future of frictionless transactions, making payments a lot more different than credit cards. But have you wondered how BNPL is different from a credit card? The two modes vary in several ways, let's have a look below:
| | Buy Now Pay Later | Credit Card |
| --- | --- | --- |
| Interest rate | Up to 24% | Up to 48% |
| One-time charges | No charges | Depends on the issuer |
| Convenience | Faster and secure | Time-consuming |
| Eligibility | Can easily be applied online | A good credit score is essential |
| Acceptance | Not widely accepted yet | Widely-accepted |
BNPL Vs Credit Card Comparison
Interest rate comparison (Credit card vs BNPL)
Interest rate comparison between Credit Card and BNPL
A credit card generally comes with an interest-free credit period of up to 45 days, while for BNPL, the interest-free credit period is 15 days. However, it can vary depending upon the BNPL providers. Now that we know the difference, another question that lies in front of us is: BNPL vs credit cards – which one is better for your customers? Let's find out in the next section.
Who is the winner – BNPL or Credit card?
If your customers prefer to pay later for online purchases, they have two options before them: BNPL or credit cards. The credit card vs BNPL debate has gone on for a while now. Here is a look at their pros and cons to help deduce which is the definitive superior mode of payment.
Buy now pay later
| Pros | Cons |
| --- | --- |
| Customers apply online, with instant approvals. | Sometimes payment plans are not interest-free. |
| The credit score isn't a mandatory criterion. | The eligible customer base is small compared to other payment methods. |
| Customers can repay the amount in instalments. | Some customers may use it excessively, leading to huge debts. |
| BNPL providers offer various plans – 15 days, slice in 3 etc. | |
BNPL pros and cons
Credit card
| Pros | Cons |
| --- | --- |
| It is accepted by a vast number of online businesses. | If customers carry forward their balance to the next, interest charges are added. |
| Customers earn cashback, reward points and avail offers on credit card purchases. | A stringent credit check is done before issuing a credit card. |
| Some cards give added benefits of travel and car rental insurance too. | Paying late affects customers' credit scores. |
| | There are associated fees which make the overall purchase more expensive. |
Credit card pros and cons
Buy Now Pay Later vs Credit Card: Changing Customer Preferences
According to the C+R study, 56% of online customers prefer to use Buy Now Pay Later (BNPL) method compared to credit cards and about 38% of customers – believe that BNPL will eventually replace credit cards. ​
Top reasons why customers prefer Buy Now Pay Later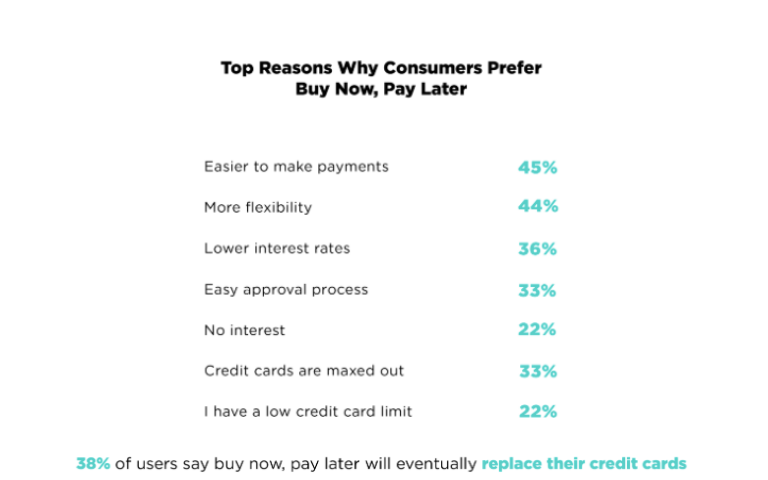 Buy Now Pay Later for businesses with Nimbbl
The Buy Now Pay Later option is in demand, and the reasons are obvious. BNPL is fast and secure. It provides a smooth checkout experience to the customers. While credit cards take almost 120+ seconds to complete the payment, BNPL can do the job in less than 10 seconds. Business owners can sell more goods if they have the BNPL option on their checkout page. Furthermore, BNPL via Nimbbl is a must-have as it reduces the checkout steps, providing your customers with an unforgettable shopping experience.
Nimbbl offers a frictionless experience option with a one-click checkout for BNPL payments. Besides, there are also fewer chances of shopping cart abandonment, which, in turn, increases the conversion rate. It offers the leading Buy Now Pay Later providers like Lazypay, Simpl, ICICI Pay Later, Ola Post Paid and more through one API. Sign up for Nimbbl and start getting better conversions with BNPL today.

Conclusion
Buy Now Pay Later vs Credit Card – which is the winner? Well, we have the answer now. The bottom line is that Buy Now Pay Later is a more convenient option for customers when buying online. Unlike credit cards, BNPL offers comfortable credit to consumers and flexible repayment through simple, interest-free instalments without any additional costs. According to Worldpay's Global Payment Report 2021, BNPL accounted for 2% of all global eCommerce transactions and is expected to double to 4% by 2024. The future of BNPL is very bright, and many online businesses are integrating this payment option into their stores.
FAQs
Can Buy Now Pay Later (BNPL) affect a customer's credit score?
Buy Now Pay Later (BNPL) may or may not have any role in the credit score. It depends upon the provider whether a delay in repayment of the BNPL amount can impact the credit score or not.
What are the repayment options in BNPL?
Different types of repayment options are available in BNPL. Some of the popular ones are pay in full, pay in equal parts in four instalments.
Is BNPL better than a credit card?
Depending on the use case, your customers may prefer BNPL over credit cards or vice versa. The pros and cons of each should be evaluated as per the use. As a business, you should definitely provide BNPL options to your customers.
Which is more costly: BNPL or credit card?
A credit card is more expensive when compared to BNPL. Credit cards also charge some yearly fees, while BNPL has no such criteria. Your customers can start using it for free and make payments on a later, fixed date.