If you are an online business, you are probably aware of the importance of processing payments for your business to be successful. You must have come across the word payment gateway while looking out for payment solutions. While some customers will still want to pay you in cash or offline payments, most customers today prefer to use electronic payment methods to make their purchases from you. To turn your visitors into paying customers, one of the most important things to look at is the features of your payment gateway system. It plays a crucial role in increasing conversions on your site, allowing you to process payments easier, faster and more reliably.
Payment gateways bridge your website and your customer's payment methods. This allows you to take payments and process them safely and securely on your website. It allows your customers to provide their payment information in an encrypted format taking care of the processing and security during the online payments leg. This article will cover the six must-have payment gateway features that will help you increase your conversion rates, improve security, and protect your business from fraud. Let's jump right into it.
Content Index:
How to get a payment gateway for your website?
A payment gateway is software that processes card payments and e-transfers. It is integrated into your website or shopping cart so that customers can enter their payment information. In the last decade, online businesses have moved towards payment gateway aggregators like Razorpay, PayU, and Cashfree to accept payments. These providers bundle multiple payment gateways and payment methods into a single integration. In recent times, checkout solutions like Nimbbl are been preferred as they combine the convenience of multiple payment gateways along with a one-click checkout.
Here's how to set it up-
1. Signup:
You will need an account from an online payment aggregator to accept payments online. This is similar to opening any other bank account, except that it's with an online payment aggregator instead of your local bank branch. You can open a merchant account in just minutes through one of the many payment gateway aggregators. They all offer free trials, so you can test their services before making a decision.
2. Onboarding:
Once you signup for a provider, you need to complete the documentation. The payment gateway documentation varies depending on your business entity type. You must also comply with risk and compliance requirements in order to get approved. On Nimbbl, with one account, your documents are sent to multiple aggregators for approval. Saving you from the hassle of documentation, and approvals. This goes a long way in giving you the convenience of a backup provider in case something goes wrong with the primary one.

3. Integrate your payment gateway with your website:
Now that you have your account and API keys ready, it's time to connect them to your website or app so that customers can pay online. Onboarding and payment gateway integration can be done parallelly too.
The advantage of working with a one-click checkout like Nimbbl is that you can get pre-built connections with multiple payment gateway providers in one integration. This results in you saving a lot of time and resources on development and implementation. Now that you've understood the basics, let's move on to the six must-have features of an online payment gateway that will improve conversion rates on your eCommerce site.
6 must-have payment gateway features on your website
1. Secure and Risk Compliant
Security is a significant aspect of any online payments system. Customers' payment methods should always be encrypted and end-to-end security should be taken available so that no one can access the sensitive personal information of customers. If there are any lapses in the security, potential customers will be reluctant to use them and make payments through your site. Instead, they'll look for alternatives and leave you with fewer conversions than you deserve. This can hurt your business's reputation and overall success as well. It is best to avoid cutting corners when it comes to security—to save yourself from significant losses down the road. Check on the risk compliance that the gateway follows. PCI-DSS is one such industry-standard guideline for card transactions.
Benefits
More trust in your business
Supports in avoiding chargebacks
Helps reduce fraud
Helps prevent identity theft
2. One-Click Checkout
The payment gateway you choose should be responsive, adapting easily and quickly across devices, especially mobile devices. If your customers have difficulty completing their transactions due to an outdated or poor checkout page design, they'll bounce back from your site—and likely never return.
Instead, by choosing a mobile-friendly checkout design and making payment seamless, you can ensure minimal payment drops. Here are 10 tips and best practices to optimise your checkout process.
Benefits
Increased conversion rates
Easier checkout processes for customers
Fewer bounces and cart abandonments
3. Passwordless, No OTP flow
Asking for OTP and passwords from customers to show their preferred payment method is a thing of the past. With an express checkout flow, customers get a personalised payment experience without having to perform any additional steps. In the Nimbbl checkout, we do all the work behind the scenes for:
Running a real-time eligibility algorithm
Considering 50+ data points for showing personalised payment methods to customers
Responding in less than 250 milliseconds
Benefits
Faster payments
Lower friction for customers
A personalised experience for every user without additional steps
4. Timely transaction settlements
Settlement is getting the customer payments transferred into your bank account. This is especially important for eCommerce transactions. Getting payments into your business's bank account as quickly as possible will help you manage your cash flow better. From bank transfers to instant refunds, several payment options can get payments in your hands faster than ever before.
You can evaluate from the various available settlement cycles. From the industry standard of T + 1; T + 2 cycle where T is the transaction date to those that offer a real-time settlement. The more options you have, the quicker you can get paid—and put money back in your pocket.
Benefits
Timely transactions can help you manage your cash flow better
5. Easy integration with eCommerce platforms
Many eCommerce platforms like Woocommerce, Drupal, Magento, Opencart, Shopify etc., integrate with payment gateways and help you accept payments online. The main benefit of integrating your payment gateway with your eCommerce platform is that it allows you to set up a payment acceptance system within minutes. If you want to start an online store built on a popular platform, you should look for a payment gateway that integrates easily with your eCommerce platform.
Benefits
Easy, no code setup
No need for a development effort to integrate a payment gateway
Easy management of orders and payments
6. Non-website payment solutions
Do you want to collect payments outside your website? The payment link and payment page are good options to start accepting payments without any integration. You can reach your customers through their preferred channels like Whatsapp, SMS, Email and more.
Benefits
No integration effort
Quick go live
Reach customers beyond your own website/app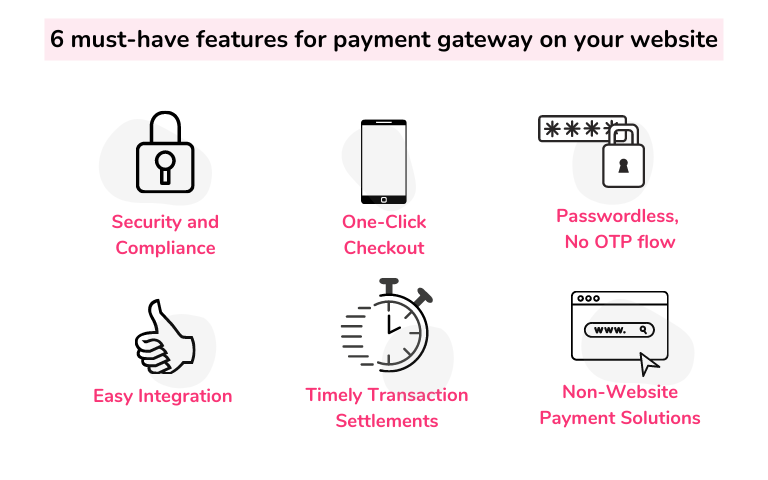 How to get all payment gateway features on your website?
It is not very easy for small business owners to have multiple payment gateway features on their websites. With, Nimbbl you can get the best of all payment gateway features through a single integration. It helps small businesses stay competitive in today's market with the following advantages:
Get the top payment gateway aggregators like Razorpay, PayU, Cashfree, PayU, and CCAvenue via one integration.
You can easily add, remove, and change priority between them with ease from the powerful Nimbbl dashboard. All this without any new technology or operations dependency.
Offer payment flow built on new-age payment methods powered by Buy Now Pay Laters, and UPI apps via a single API. You can go live faster, do a/b tests, and get the payment flows of the future.
Offer your customers a personalised checkout experience they'll love. In return, get higher conversions, lower abandonments, higher-order values, and repeat purchases.

FAQs
What are the benefits of a payment gateway?
A payment gateway is a secure link between your site and your payment processor. It is a solution that allows you to accept various forms of payments from credit cards, debit cards, and electronic checks.
How important is a payment gateway in eCommerce?
If you want your eCommerce store or website to be a success, you must find a payment gateway that is reliable, secure, and easy to use. While there are many payment gateways available on the market today, not all of them are created equal.  
What is the difference between a payment processor and a payment gateway?
A payment processor makes the payment between two parties possible. It relays the payment information from the customers' card to the issuing bank and acquiring bank.
A payment gateway (PG) captures the payment details of a customer and relays them to the processor. After that, it communicates the transaction status between your customer and you.