In today's ultra-connected, fast-paced world, one of the biggest challenges an e-commerce store faces is the conversion of online visitors into actual buyers. After selecting items in the shopping cart, online buyers need to input their details on the checkout page. A checkout page in an eCommerce store/portal where online shoppers enter relevant information related to payment and shipping/billing regarding their purchases on the particular portal.
The ideal checkout page design allows online customers to complete their online orders. The checkout process collects a customer's shipping details, billing details, preferred shipping method and payment method, and finally, the option to submit the order.
Web portals need to have a checkout page design that is easy to understand and fill in for online visitors. A checkout design is a deciding factor that tilts an online visitor towards an online portal.  The smooth functioning of the checkout page UI design makes it convenient to use, easy to access, and high-performing. It attracts a positive reaction from online visitors, boosting the customer satisfaction level and ensuring that the customer will return to the web portal. 
Content Index:
What is the need to optimise checkout pages?
It is crucial to optimise your checkout page design. Otherwise, it results in checkout abandonment. Optimising the checkout page helps online businesses recover from losses incurred earlier. The products that the customers abandon after adding them to the cart due to checkout page issues have the potential to get sold eventually after optimization. The registered sales after this step have proven to make a massive difference in the annual profits of the businesses. Therefore, it is safe to say that checkout optimization is instrumental to the growth of a business.
Checkout optimization takes a lot of time and effort. Online businesses need to regularly do A/B testing to identify issues and determine what works best for an online business to make the checkout page attractive, seamless, easy to use, and understandable to customers. This ensures that customers do not choose cart abandonment out of frustration.
Key checkout process statistics:
The overall cart abandonment rate is a whopping 81.08%
23% of online customers abandon purchases because they are sceptical about creating a new account
Add-to-cart rates on the desktop are 4.35%
Add-to-cart rates on mobile are 8.96%
Data: Source
Checkout abandonment happens when a customer does not make the final payment, and instead, leaves the checkout page altogether without completing the purchase. On average, 70% of customers abandon the checkout pages. Using online analytics portals can determine the cause of why online customers move forward with checkout abandonment. However, optimising the payment checkout page design can help online portals recover lost revenue. Before understanding why it is essential to improve checkout, we must first know why customers proceed with checkout abandonment.
Top reasons why customers abandon checkout
There are several reasons customers abandon the checkout page. Some of them are:-
1. Unexpected fees –
Unexpected costs added to the order summary cause customers to review their purchases and ultimately change their minds.
2. Forced account creation –
Forcing online customers to register to proceed creates obstacles for them. Instead, it is better to offer guest checkout options to your customers.
3. Complicated checkout process –
4. Many form fields to input –
The more information you need, the greater the required security. This results in increasing the time a customer takes to move from browsing for products to buying them. So, at the time of purchase, better to make data input simpler and error-free.
5. Lack of payment and shipping options –
Online websites that can't offer unique shipping and payment options to online visitors discourage customers from using the online portal. Customers prefer to deal with their preferred courier service provider due to their trust in them for providing safe delivery of goods. If online portals don't allow the option to use their preferred courier service provider, it's more than likely that customers will not go through with the purchase. Online portals can offer a guest checkout option or password-less login for payments with Nimbbl.

What elements should be there on a checkout page?
The success of an eCommerce portal boils down to how well the website can convert online visitors into regular buyers. Online portals need to have the best checkout page design to entice buyers to go through with payment. There are many ways to encourage an online customer to make a purchase, but how well the customer is treated at the checkout can make the difference. The checkout page UI design should be created to ask for essential details only; order summary with product details and customer shipping details included. All eCommerce portals must include four key elements of the checkout page design to help improve sales. These are as follows:
1. Checkout UX –
Customers' User Experience (UX) must be perfect even before reaching the checkout. The UX of an eCommerce website influences the psyche of the customer. A confused-looking storefront is likely to turn online shoppers away. This applies to checkout page web design as well. The last thing customers want is confusion before opting to pay for their chosen products. They want to be sure of how much they have to pay. So, ensure that information on the page is written in simple language with less jargon and multiple payment options. 
2. Localising currency –
Giving customers the option to change or add local currencies to a website for payment can be a significant reason online customers opt for that particular website. This not only helps avoid checkout abandonment but helps boost sales. A web portal based in the UK, only allowing payment to be made in Pound or £ for goods sold is a mistake.

As the internet is global, shoppers from anywhere in the world browse to shop. If they don't have an option to make payment in their local currency, they will leave the portal at the checkout stage. Websites should offer the option to change into local currencies of the countries where the business/website is accessible or the most used foreign currency in that country.
Payment method –
As now more payment options are available other than MasterCard and Visa, an online checkout portal should offer various payment options. Whether it is BNPL, UPI, debit or credit cards, net banking, or other payment options like PayPal or Google Pay, eCommerce portals need to offer all options in the payment checkout page design. Customers should have the freedom to choose payment options according to their preferences.
4. Authorisation optimisation –
Checkout page best practices
The best checkout page design can be created by following a set of best practices. The best practices are as follows:-
1. Mobile-first, personalised-fast payments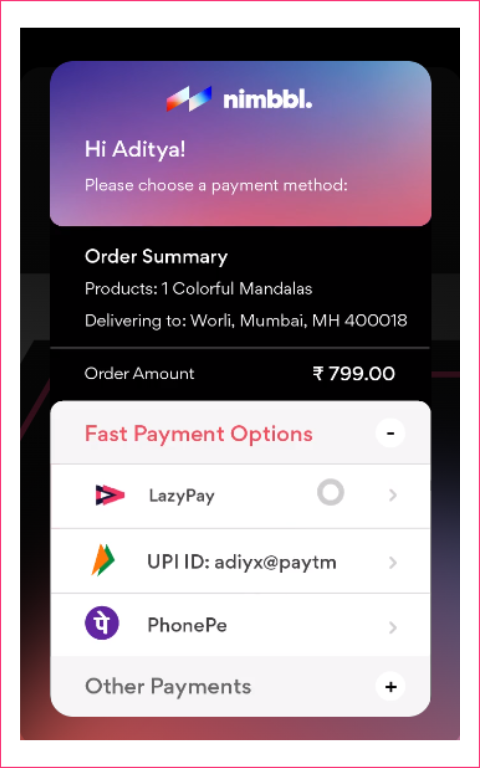 In the age of the smartphone, with better connectivity, and faster internet, over 50% of online shopping is done on a mobile device. Not optimising checkout designs for mobile can result in missing out on many customers. The payment experience needs to be super fast. Your customers should be able to complete the payment in seconds. Personalised experience right through to the payment stage can set you apart from your peers.
2. Allow guest checkout
While retaining customers and ensuring they come back is important, one-time buyers are also crucial that businesses should consider. Not every customer wants to register for making a one-time purchase. They can use the guest checkout option to make purchases by entering just their email id. Forcing them to register can create an obstacle while buying products. It's best to make life easy for them. They can be reached out later as well.
3. Don't ask for unnecessary information
It is best for online portals to only ask for basic necessary information. Collecting only the essential information required from the customer helps streamline the checkout process. Getting customers' emails early in the process is enough, as that is the only information online portals need to follow up with online customers to market a product to them.
Adding unnecessary steps in checkout costs the customer more time and makes their online shopping experience less convenient. It may be noted that customers are also wary of giving personal information every time they do online shopping.
4. Use a clean design and remove distractions
It takes a lot of effort and cost to entice online customers to buy products and then get them to make payments. The effort put towards converting visitors to buyers shouldn't be hindered by distractions. A clean checkout design should be devoid of a shiny header and footer, menu buttons, and additional purchase links that may distract online customers from completing their purchase.
5. Offer multiple payment methods
It's always better to provide online customers with as many payment options as possible. However, it may seem to be costly. So, it is better to prioritise and choose the most popular payment option first, subsequently adding other options as the number of online visitors and the business grows.
It may be noted that customers are inherently picky about the kind of payment option they use to make payments online. While most choose the best option in the portal, others choose to pay using their preferred payment option. Websites like Nimbbl provide multiple payment options for customer convenience, including Wallets, Net banking, BNPL, UPI, and more."
6. Remove surprise costs and fees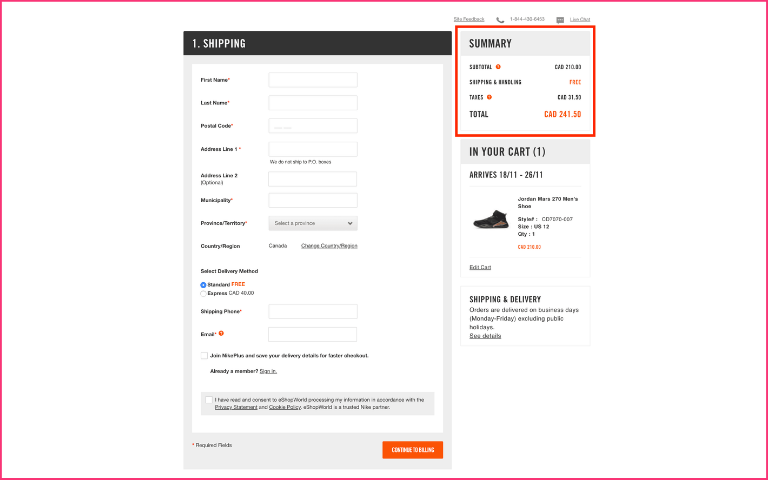 Additional costs are the prime reason customers abandon checkout at the very last second, as they start second-guessing the ultimate value of their online purchase. Online customers abruptly checking out will result in an increased checkout abandonment rate. It is better for online portals to provide as many details as beforehand, including subtotal, shipping fees, applicable tax, and total pay to allay fears of online customers of any additional cost added to the cart.
7. Show security badges and seals
It is best for online portals to display security badges and seals in the payment checkout page design, giving online customers confidence that the eCommerce portal is safe for a transaction. These seals and badges shown throughout the checkout page web design allay fears of security the online customer has regarding a safe, transparent payment system that will ensure data entered is protected, ultimately ensuring peace of mind.
8. Use form validation to notify an error
Online portals need to enable form field validation in real-time. It helps customers input data and allows shopping portals to collect information as accurately as possible. As a best practice, online portals must also flash error notification alerts if data entered by online customers cannot be accepted or knowingly/unknowingly skips a form field. This will ensure that the online customer doesn't miss out on a step while entering data. This helps online portals validate every transaction.
9. Connect to customer support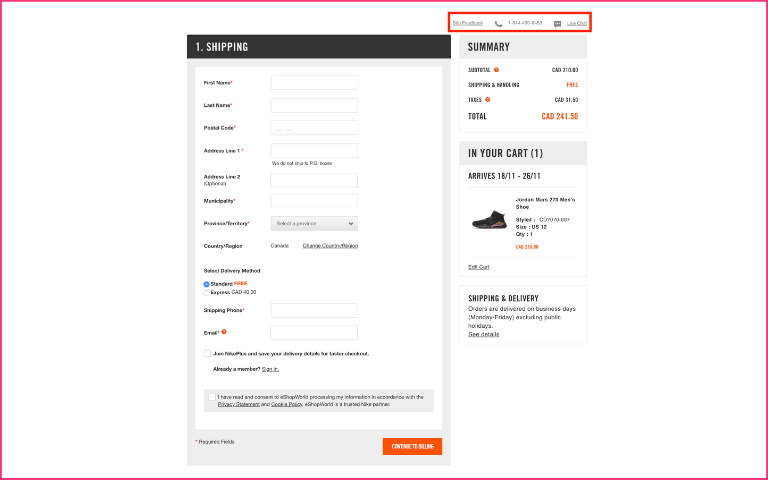 It is a part of the best practice for online shopping websites to offer customer support to customers. The key is to provide customer support at the right time when they need it. Customer support could well be the difference between a completed sale and an abandoned cart at the right time. Customer support can be provided through a knowledge base, a 24/7 call centre, or a live chatbot. 
The key is to provide online customers with multiple options to communicate. The online customer could use any method to communicate with the portal. Offering the right kind of support to customers can help keep them on the portal by addressing their concerns and eventually result in a buy, reducing cart abandonment rate and checkout abandonment rate.
10. Using progress indicator to guide checkout
Whether an online portal uses a one-page, multi-page, or multi-step checkout process, integrating it with the progress indicator helps. It allows customers to keep track of where they are in the checkout process. It also helps them review their completed steps and analyse the steps yet to come. This gives online customers an idea of how long they have spent and how much more time will it take to complete the payment process.
11. Allow social sign-in to speed up the registration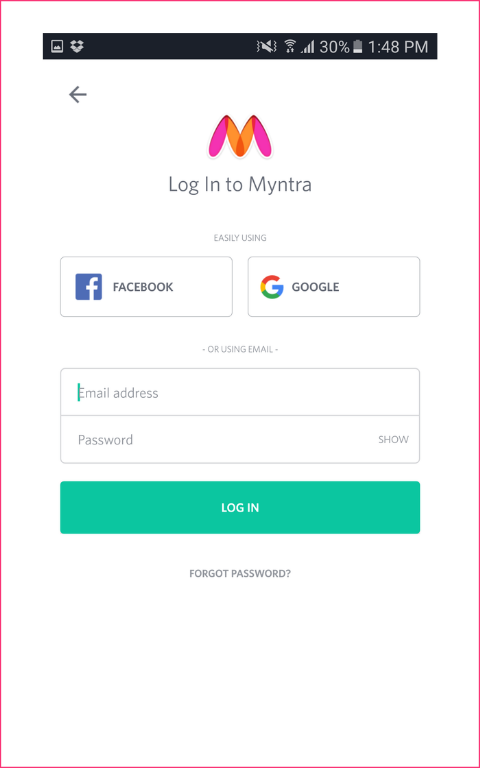 Allowing customers to sign-up or register using the social media account lets online customers connect using a pre-existing account. This helps shopping portals verify their identity and helps collect a variety of other details, such as personal details that they may have entered using their social media account.
This helps save customers a number of steps they may have to follow to access their accounts. This saves time and helps improve customers' experience, motivating them to return to the online store.
12. Auto-save cart contents when abandoned
Saving shopping cart contents or simply auto-saving the items when they abandon the cart can help online customers. It helps save their time by allowing them to return to their checkout instantly, eliminating the need to browse through the entire shopping website and select the products again to the shopping cart. 
Auto-saving increases the chance that customers will return to the portal and restart exactly from that spot where they had previously left off, thereby avoiding the need to repeat that process.
13. Using discount and promo codes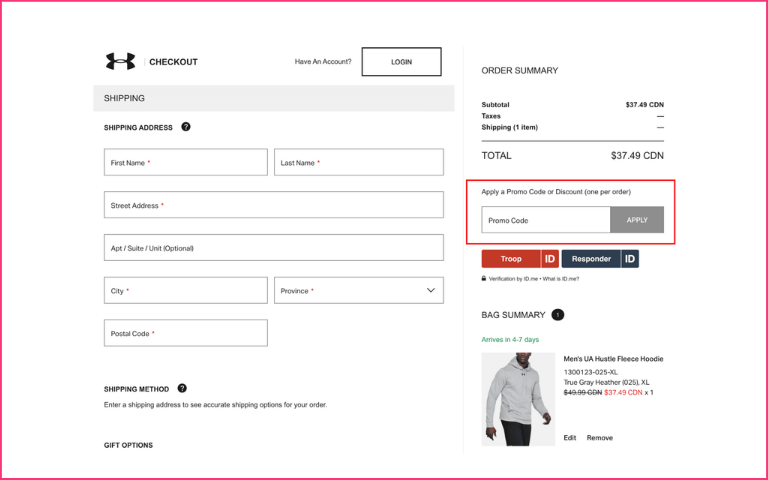 Online portals sometimes offer discounts or promo codes to online customers to entice them to the checkout page. Customers who don't have a discount code may search for a discount code. A discount code can help customers make it easy to enter the shopping portal.
As a best practice, not making it too prominent for customers can help customers rethink entering. Making it too obvious discourages them as they are more aware of their price.
14. Send post-payment order confirmation
Once a customer completes an online purchase, the online portal should follow it up with a post-purchase order notification and a thank you note sent via email. This notification summarises the details of the order placed by the customer, including shipping cost, taxes, item count and details, final total/ subtotal, estimated delivery time, and/or any other information that may help the customer. A thank note expressing the online portals' gratitude to customers for choosing their service even if they are one-time buyers can help enhance the customer experience.
15. Use clear CTA captions
Online shopping portals must give importance to the state of mind of customers. They need to anticipate what online shoppers understand when faced with specific commands or descriptions. Online portals must use proper descriptions such as "Continue Shopping, Proceed to Checkout, Complete Order, and/or Apply Coupon."
These simple yet direct messages help online users know beforehand where they will be redirected after clicking on a particular button. Also, ensure that optional and required fields are marked to avoid checkout abandonment.
16. Use by default shipping address as billing address
It is best practice for online portals to do everything that helps reduce customers' time to fill in details before checkout. The easiest way to do this is to allow the online customers to copy the same shipping address as the billing address. Though many online customers may not share the same shipping and billing address, it is better to have an option to keep shipping and billing addresses separate for clear identification.
17. Use the best checkout page UI design
Online portals must use the best checkout page UI design to make portal checkout relatively "risk-free" for online users. If checkout page UI design is not ideal, online users may skip fields that are not relevant to them. The use of incorrect interface types is also one of the reasons for checkout abandonment. Additionally, avoid using radio buttons and drop-down lists during checkout.
18. Allow 'Back' option during checkout
It is best for online shopping portals to offer users a "Back" button during the checkout phase. The Back button allows them to review and, if needed, correct/edit the previous step, regardless of whether it's technically the same or a separate page. This should be applied sitewide, including those with accordion checkouts.
On shopping websites where accordion steps are implemented as a single page with a single URL, users trying to go back may be sent back to the cart selection or account selection step. This may also be the reason for checkout abandonment.
19. Avoid using jargon during checkout
Online portals need to avoid jargon in their checkout stage. It may be noted that most of the online users of shopping portals visit the websites infrequently; only a few regularly visit to make purchases. This makes online users sensitive to site-specific names/jargon. While website employees who own and operate the website may understand and know the meaning of website-specific terms, it is not fair to expect online users to be aware of some, if not all, of them.
Using jargon may result in online users being forced to spend more time understanding the meaning of jargon. This may delay their checkout process, forcing many to abandon the checkout. As such, shopping websites need to carefully determine the word choice on the checkout page and only use something that a general user would easily understand.
20. Correctly format the "expiry date" field
ISO 7813 standard specifies characteristics of "Financial Transaction Cards". Shopping carts need to follow these in the checkout stage, especially if the online user uses a card for payment. ISO 7813 specifies that all financial transaction cards must show the card's expiration date being used to make payment during the checkout phase, in either of the two formats; "MM-YY" or "MM / YY". "MM / YY" is the most commonly used format for credit cards.
"MM / YY" represents two digits for the month and two for the year, e.g. "02 / 18". However, many websites still use a nonstandard format, which creates unnecessary disruptions to the input flow of online users during the checkout stage. This forces users to pause and carefully look at the date format used and often use the keyboard to input expiration date info carefully.
21. Make forgotten password reset easy
For repeat customers, checkout is easy as most of them save their email id, shipping address, and payment details. Since they are regular visitors to the online portal, it is easier to remember their username and password. But the problem is with irregular visitors or customers who don't want to create an account. They prefer to checkout as a guest by using an email id.
But there are irregular visitors to online portals, and it is difficult for them to remember usernames and passwords. It is easy to remember the username, passwords, and security codes of essential portals like banking websites, social media accounts, etc., but difficult to remember the username and passwords of a shopping portal that one visits seldomly. Inevitably irregular visitors are bound to forget the password even if they remember the username, which often is an email id. For such cases, the payment checkout page design of online portals should have an option to either retrieve passwords or reset passwords, if and when, the user forgets the current passwords through a two-step security process. The key to making life easier for online visitors is to make the password reset as smooth as possible.
22 best checkout design examples
1. Showing personalised payment options
Pros:
Show payment methods in a personalized way
Integration with top payment gateway aggregators
Save on time and technical effort
New-age payment methods like Buy Now Pay Later and UPI are shown prominently

2. One column checkout flow
Pros:
Summary visible
Easy to understand
Cons:
Slow loading
Uncomfortable to use – many form fields to be entered
3. Simple and intuitive checkout form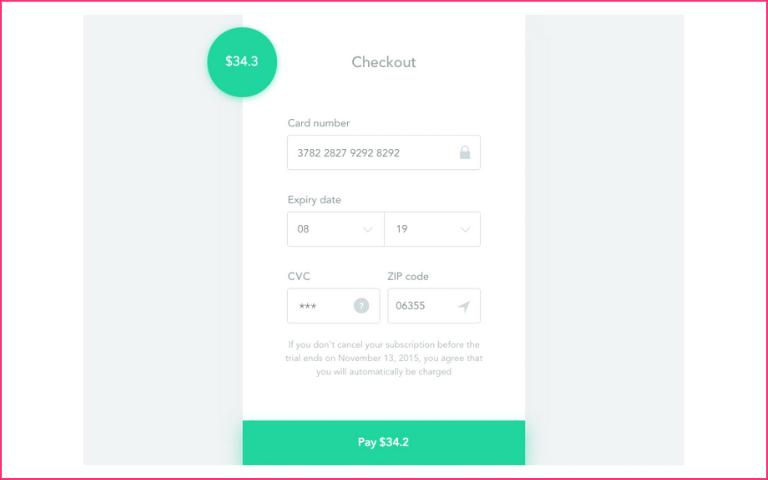 Pros:
Easy to understand
No unnecessary details
Cons:
Customised payment methods are not available
4. Well-structured checkout form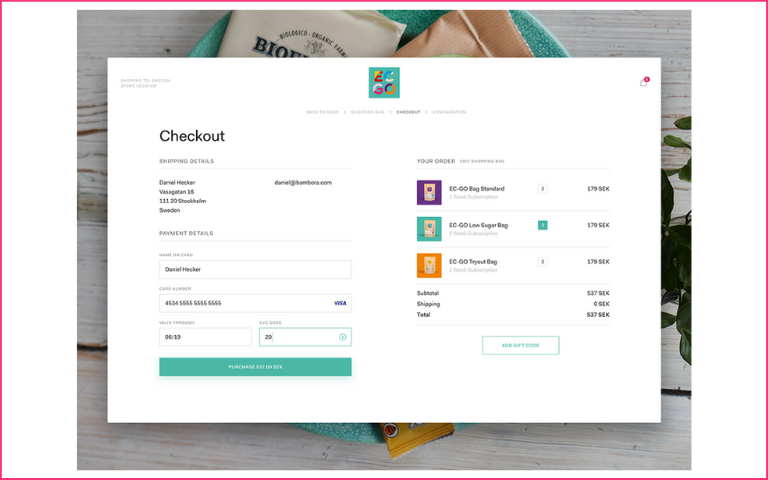 Pros:
Ideal for desktop users
Visually appealing
Cons:
Multiple scrolls for mobile
5. TicTail detailed checkout form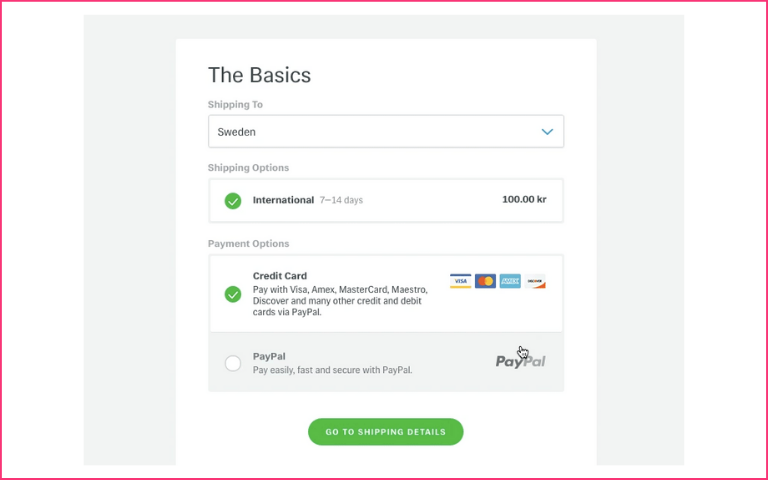 Pros:
Simple and easy
User-friendly and convenient
Cons:
Lack of shipping alternatives
6. Mobile payment checkout form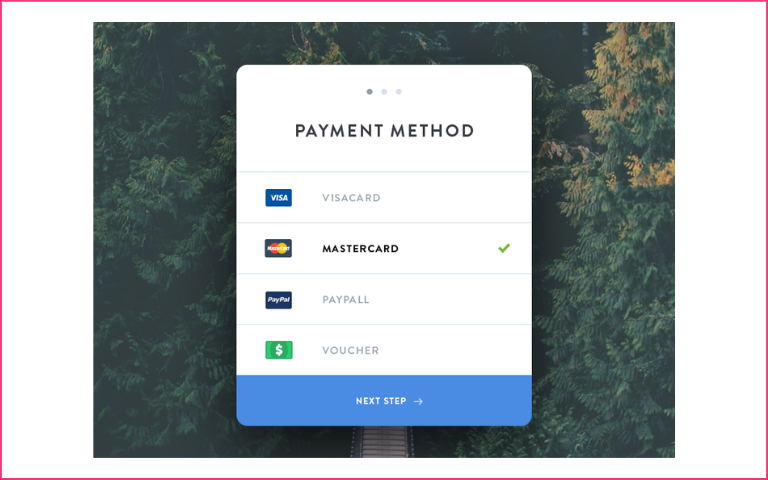 Pros:
Multiple payment options
User-friendly and convenient
Cons:
 Too many clicks are required by the user 
7. Credit card checkout form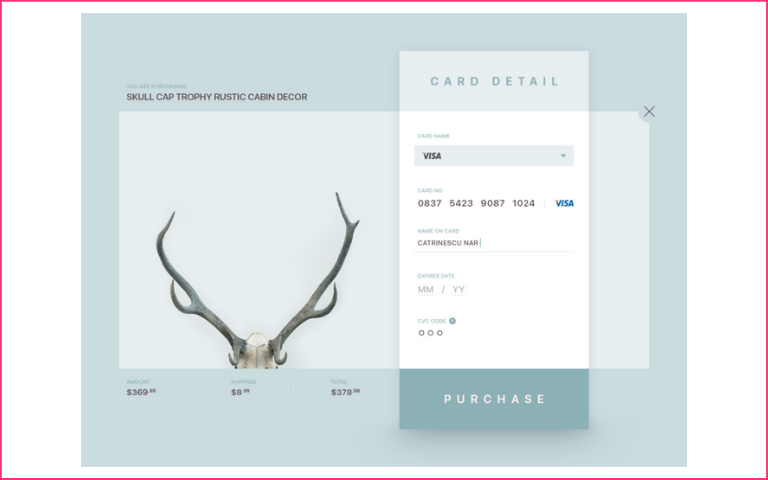 Pros:
User-friendly and convenient
Cons:
Optimised for only one type of payment method, i.e. cards
8. Live card widget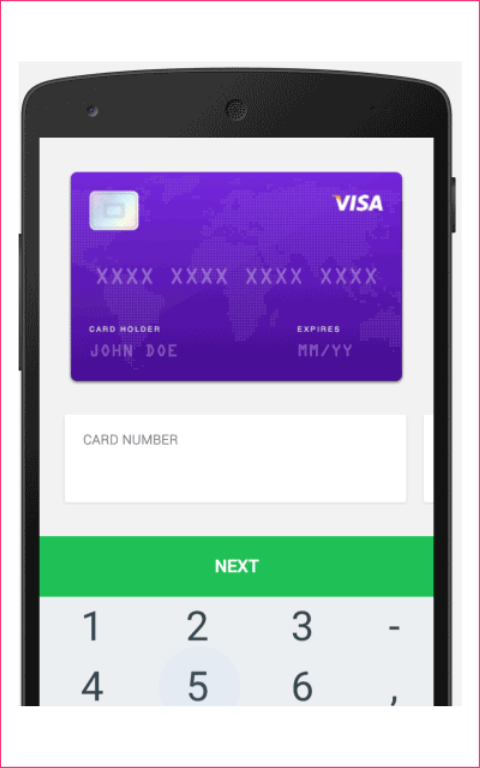 Pros:
Fast payments for card payments
Cons:
Not suitable for multiple payments methods
9. Credit card scanning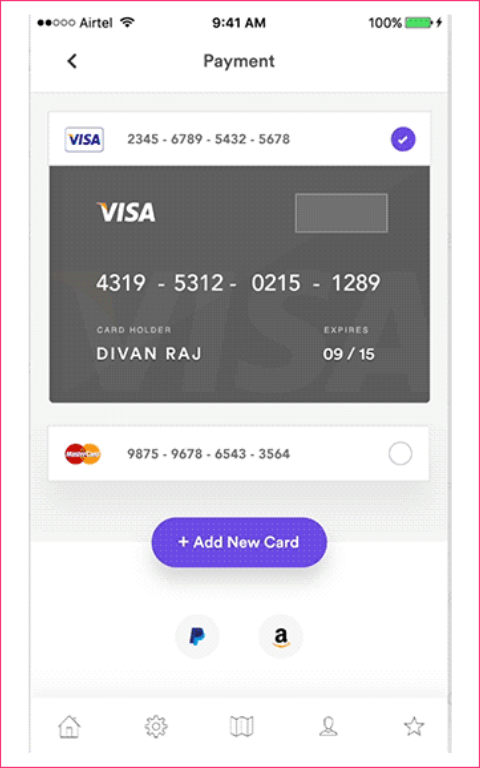 Pros:
Simplified process
Convenient to use
Cons:
Multiple steps to complete the purchase
10. Credit card payment form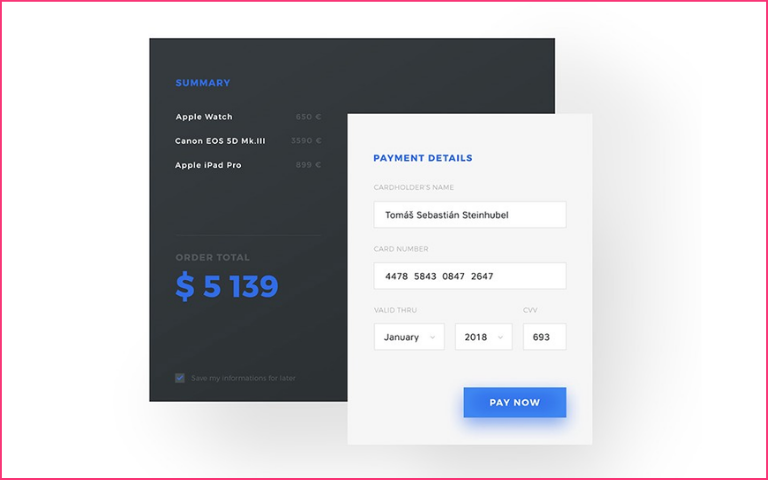 Pros:
Easy to view order summary
Cons:
No cons
11. Credit card form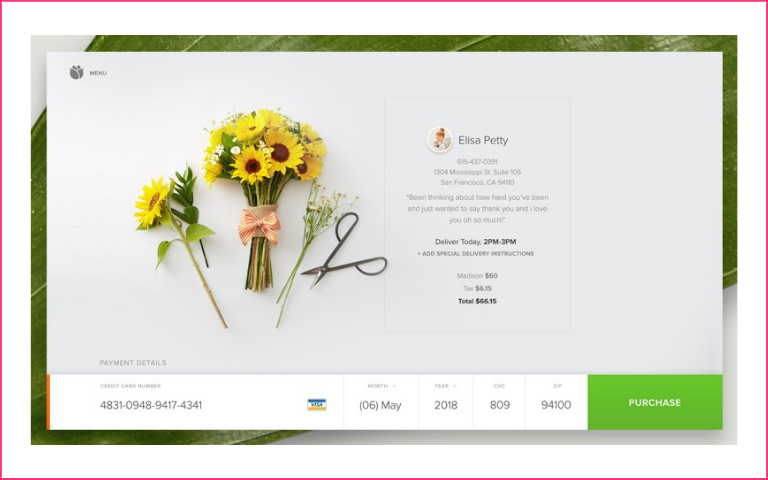 Pros:
Visually appealing
Detailed information is easily visible
Cons:
Optimised for desktop only
12. Checkout landing page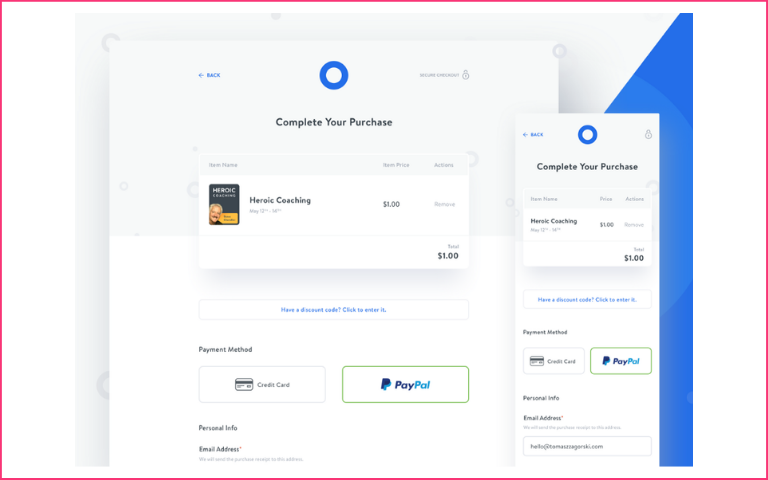 Pros:
The order summary is easily visible
Coupon code field
Cons:
Optimised for one payment method only i.e. cards
13. Messenger bots & partial payment concept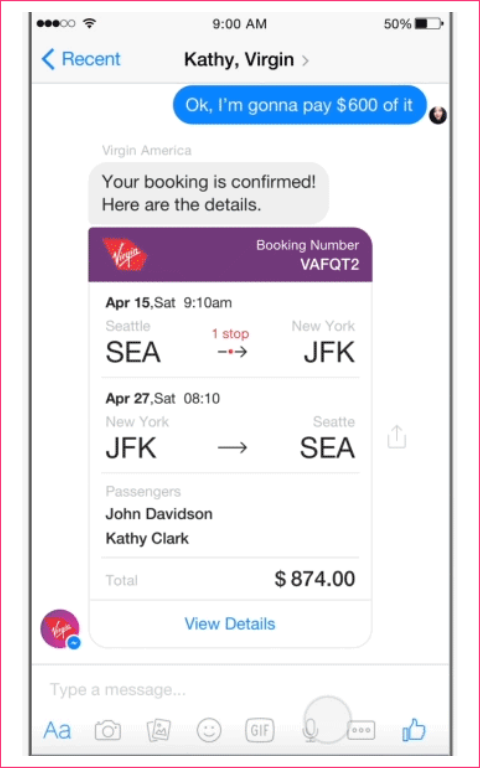 Pros:
Easy booking via chat is possible
Cons:
Lack of personalised and multiple payment methods
14. Checkout billing information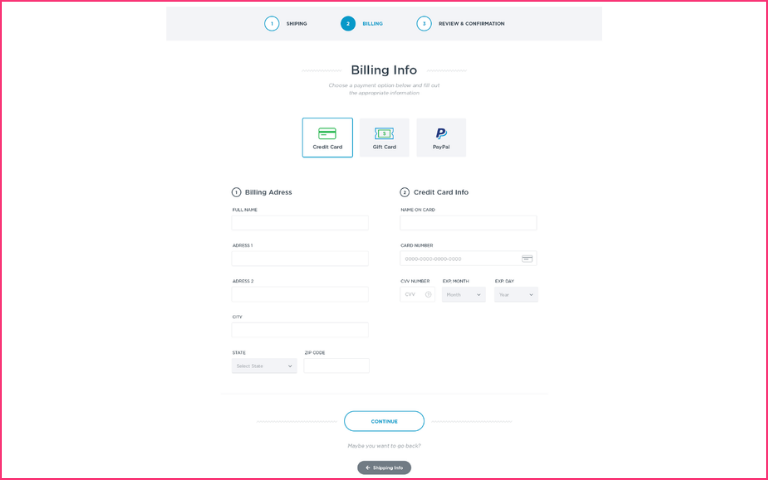 Pros:
Detailed information available
Cons:
Multiple form fields to be entered
Multi-step process
15. Credit card checkout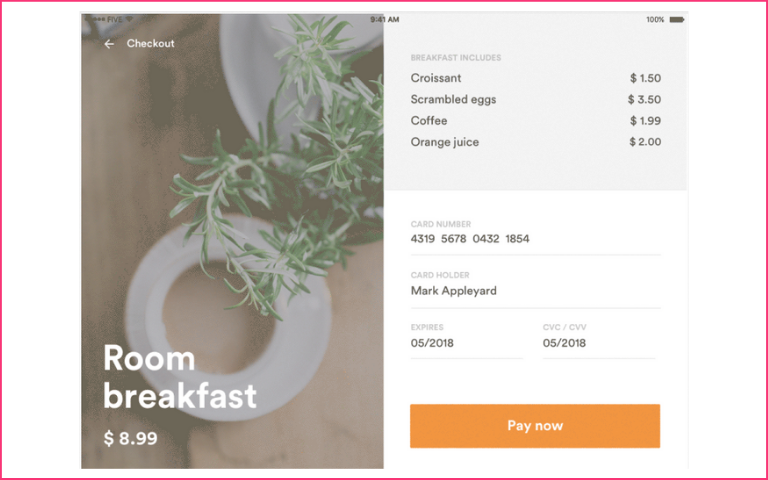 Pros:
Option to use the stored credit card details
Order information is easily visible
Cons:
16. Three-column checkout flow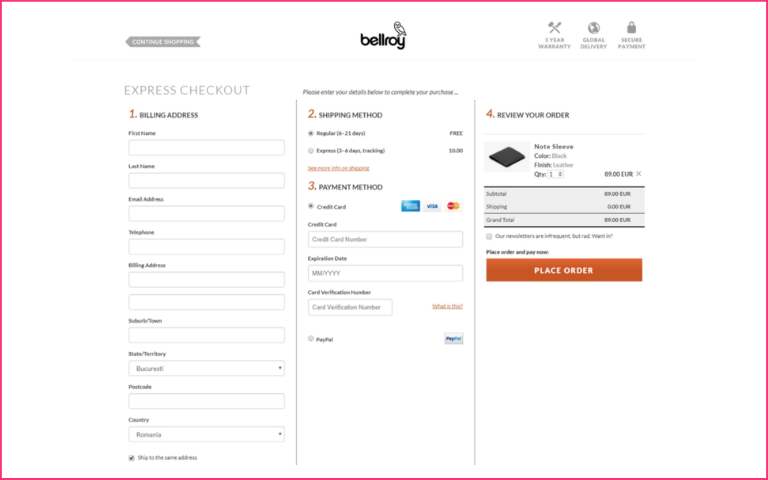 Pros:
Detailed order and payment information available.
Cons:
 A lengthy process with many form fields 
17. Simple payment page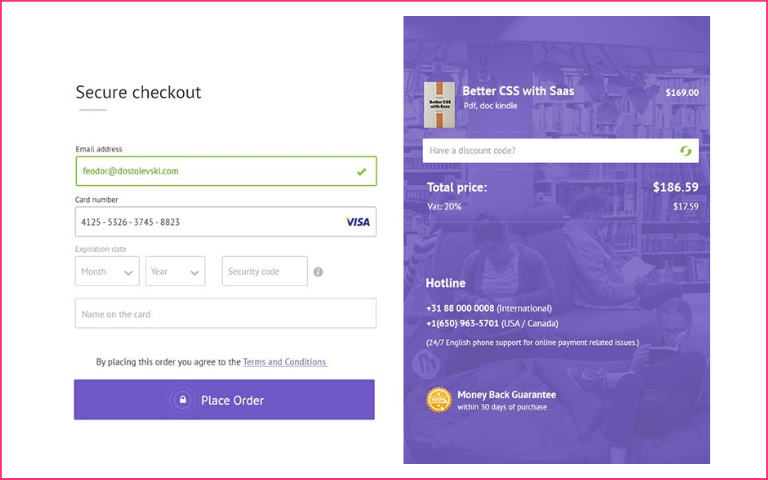 Pros:
Coupon code field easily visible
Customer support numbers and money-back information are available
Cons:
Reasking for basic customer information like the email id
18. Asos store checkout form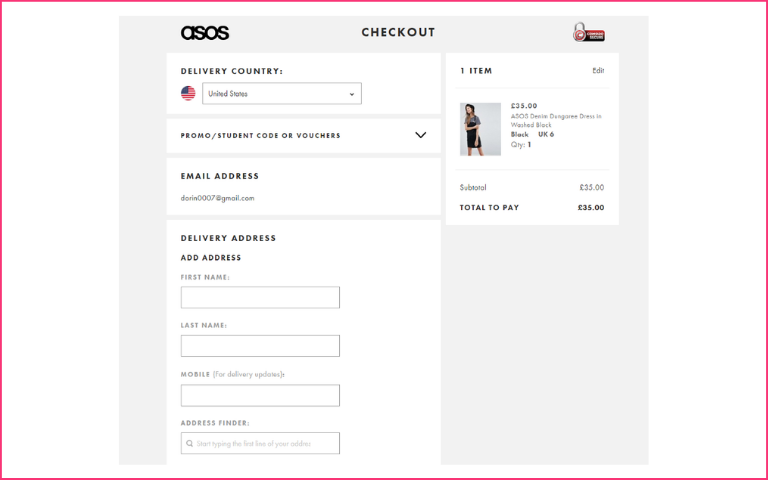 Pros:
Detailed order information is available
Easy delivery country selector with address finder
Cons:
Reasking for basic customer information like the name, email id, mobile
19. Amazon mobile checkout form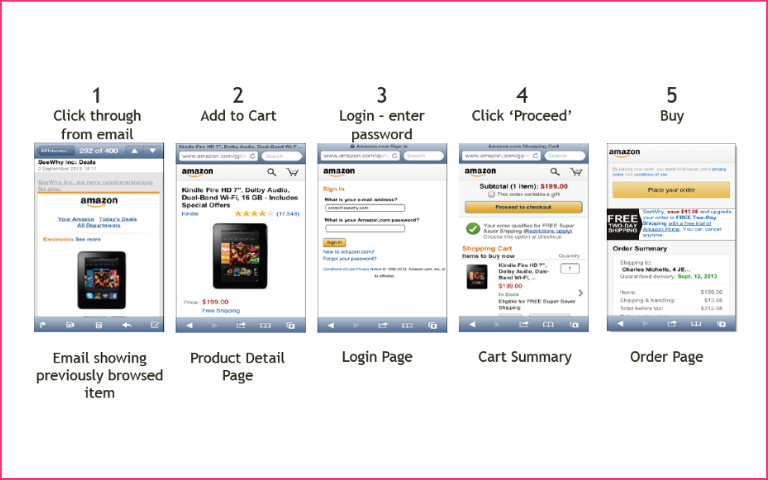 Pros:
Recheck order details at multiple checkpoints
Cons:
Too many steps with a lengthy process
20. Minimal checkout page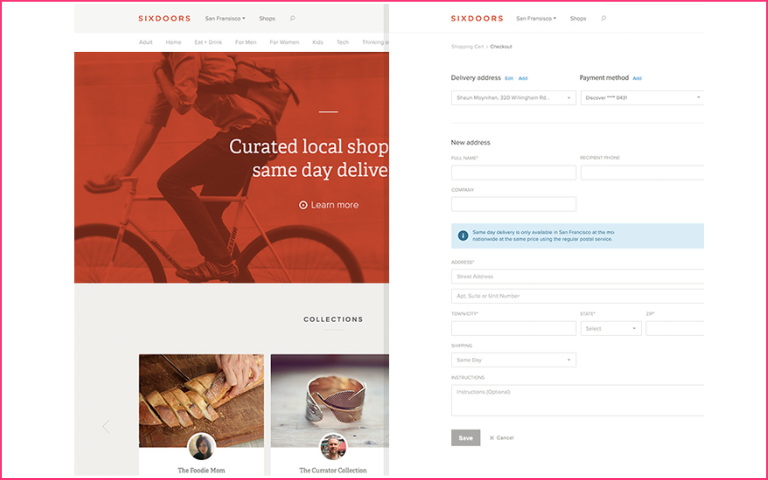 Pros:
Users get clarity in the overall shopping and checkout process.
Detailed order information with instructions
Cons:
Too many form fields to be entered
21. Shipping app concept checkout form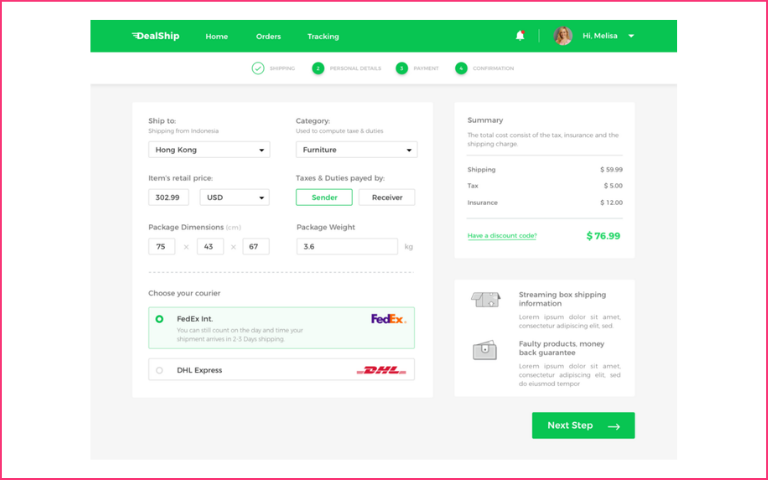 Pros:
Useful for complex purchases with different SKUs
Cons:
22. Credit card payment rebound form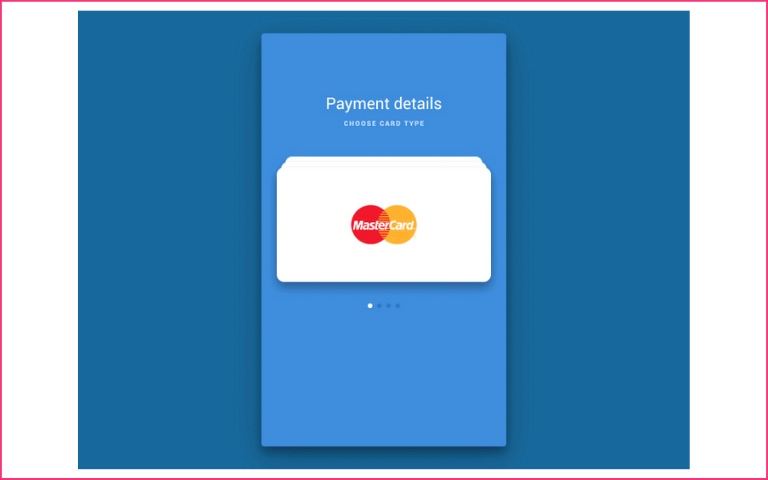 Pros:
Ideal for credit card rebound
Option to use the stored credit card info
Cons:
Optimised flow for one type of payment method i.e. cards
Conclusion
Though the reasons for shopping cart abandonment are almost the same as checkout abandonment, the respective impacts are reasonably different. Online portals must ensure that whenever online visitors select items from their catalogue, they must go through the entire process till the checkout. If they abandon checkout due to a clumsy checkout page design, it will inevitably lose revenue and hurt the website's reputation. As such, portals must make checkout pages a smooth affair for online visitors – whether regular or irregular visitors. Online portals can follow the above best practices to bypass checkout abandonment or use a 1-Click Checkout solution provider like Nimbbl.

FAQs
1. What makes a good checkout page?
A good checkout page should have minimal form fields. It should be personalised for every customer and they should be able to checkout in a super-fast way. The collection of unnecessary and redundant information in the form fields should be avoided.
2. What is a checkout page in eCommerce?
A checkout page is a website page a customer uses to conclude an online purchase transaction. The page is a digital equivalent of a checkout counter of any brick-and-mortar store. Depending on the nature of the transaction and product or service being offered, there can be a single checkout or multiple pages on eCommerce websites. It gives the customer a variety of payment options and displays the shopping cart's total value.
3. Does checkout page design matter in conversion?
A single-page checkout offers better conversion rates than a multi-page checkout. The shorter the checkout form, the better the conversion rate.