With so many buy now pay later options available, it's easy to wonder, "What is BNPL?" BNPL or Buy Now Pay Later is becoming more and more popular these days, especially among millennials. The convenience of fast payments, stacking them up and paying at one go, and contextual credit discovery are some of the reasons helping increase the popularity of the BNPL programs. Customers can buy the product instantly and pay it off in the future, with 0% interest rates (varies with the provider). This could be a great opportunity, too, if you are considering starting an online business. According to Allied Market Research, the global buy-now-pay-later market was valued at about USD 90.69 billion in 2020 and is estimated to reach around $3.98 trillion by 2030 with an annual growth rate (CAGR) of 45.47%.
BNPL can be pretty confusing if you've never dealt with it before, but once you understand how it works, it can be a potent tool in your financial arsenal. Here's what BNPL is all about and how it works.
Content Index:
What is "Buy Now, Pay Later" (BNPL)?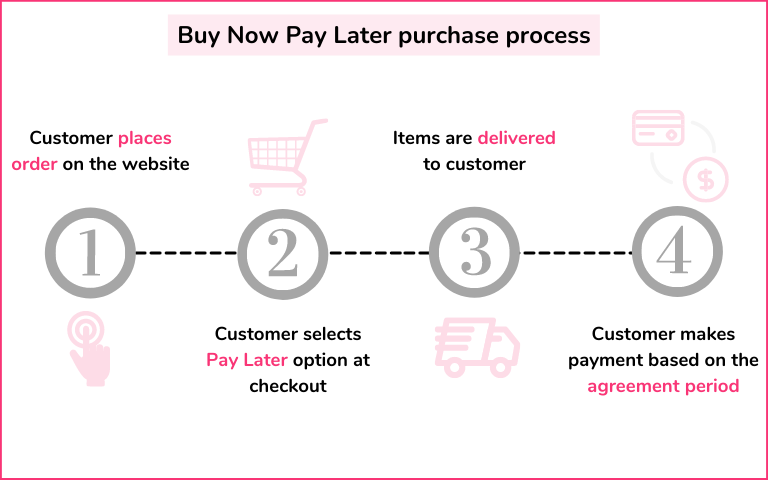 What is Pay Later service?
Buy now, pay later (BNPL) is a financial offering that enables consumers to purchase products or services without paying for them at once and at the time of purchase. With a buy now, pay later option, customers may make payments on their purchases over time with minimal interest rates.
In most cases, BNPL offers zero interest if paid off within a certain period. It is sometimes referred to as "buy now, pay later," "deferred payment," or "interest-free credit". Companies and private lenders offer later options through credit cards, loans, installment payments, or personal cash advances.
Why do online businesses use BNPL?
An online business can use a buy now, pay later program to help them sell more products and generate more profits. They do so by extending credit to customers who would otherwise be unable to afford their wares. Plus, they can even avoid any interest payments altogether in some cases. Buy Now Pay Later payment methods also have added convenience when it comes to the checkout. Customers don't have to wait for OTPs and can even do a 1-Click Checkout with players like Nimbbl.
Expanded user base:
Merchants don't have to worry about whether a potential customer has credit or not because every potential customer gets pre-approved via advanced data algorithms. They don't have to guess if a consumer can pay them back; it's all paid for at one interest rate for everyone.
Alternate credit:
Users aren't restricted to traditional methods of assessing creditworthiness. Alternate data points are considered to determine the eligibility of the user. This opens up the possibility of approving a large base.
Easy to use:
Businesses can access your information quickly and use it to let you know when and how you can pay for their goods or services.
Fraud prevention:
This type of payment keeps businesses safe from credit card fraud because a merchant gets paid in full for everyone that buys something from them. They also don't have to worry about whether or not their customer has good enough credit to pay them back; it is all handled by the BNPL provider.
How does BNPL work?
BNPL payment method discovery usually happens at the checkout page when the customer has selected their items and is ready to make the payment.
A customer wishes to purchase a product or service.
The customer finds a provider offering a buy now, pay later service at the checkout.
Customers enter their details to complete the checkout.
If approved, customers can make payments via credit card or bank transfer.
After completing your purchase, customers have x days (varies with the provider) in which they must repay the debt by either making a repayment plan with the provider or paying off what they owe in total.
* At the Nimbbl checkout, customers are shown their eligible buy now pay later options at the checkout without additional steps or clicks. They just have to choose their favourite provider and complete the payment with a single click.

Types of BNPL providers
Non-interest based BNPL providers
Customers don't pay interest on the pay later. Instead, the online business pays a fee to the third-party BNPL provider.
Interest-based BNPL providers
Customers pay interest fees for the convenience of a pay later mechanism, similar to a credit card.
Advantages of BNPL
1. Benefits for businesses:
For business owners, it's important to remember that buy now pay later can help you sell more goods. This is great for retailers and other business owners, especially those offering high-value and low-value goods.
High-end luxury items sellers can offer a buy now, pay later option on their website, so they have another opportunity to get a potential customer through their checkout process. On the flip side, those who sell low-value goods can increase their conversions, increase their cart size, reach new customers, and keep existing ones. By allowing customers an easy way to purchase these goods, with "buy now, pay later." A win-win for all!
BNPL provider company Klarna claimed that the addition of the BNPL feature could increase sales by up to 20%.
2. Benefits for customers:
When customers use a "Buy Now, Pay Later" service, they can make purchases without putting any money down. Customers don't need to worry about whether or not they can afford a product and only pay it off later. This means customers can have what they want when they want it without budgeting.
Disadvantages of BNPL
There could be potential hitches with BNPL if not used properly
Interest rate – 0% annual interest rate may not last for the entire duration, leading to higher financing costs and potential penalties for missing repayments.
Overspending – The ability to pay for an item over time can make a purchase seem more affordable and may encourage excessive spending.
Credit reporting – Unlike credit cards, BNPLs don't help create credit history. Paying on time doesn't help your credit score. However, late payment can be reported and have a negative impact.
Difference between credit card and BNPL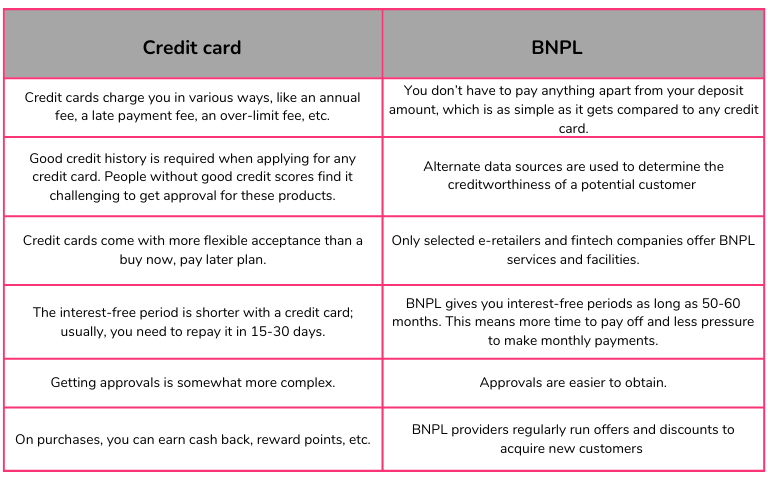 Top BNPL providers in India
There are a lot of online shopping sites in India that offer special pay later options to their users. Shoppers need not pay any advance amount to buy any product and can choose the BNPL (Buy Now, Pay Later) option while making payment.
Many people shop at these websites for various reasons, i.e., they don't want to spend their hard-earned money in advance or want to buy stuff but cannot do so due to lack of funds, etc.
LazyPay
Slice
Ola postpaid
ICICI Pay Later
Paytm postpaid
ZestMoney
Amazon
Best Buy
Capital Float
and many more
Future possibilities in BNPL
Buy-Now-Pay-Later (BNPL) is a credit product in India that promises to make buying products now more convenient. According to Institutional research, India's buy-now-pay-later (BNPL) market is poised to grow to $56bn by FY26 (~5% of digital P2M payments) as consumers find it easier to spend beyond their means and credit histories remain a challenge.
As increasing online adoption also makes it easier for consumers to choose between paying now or later, we expect a growing share of transactions within e-commerce to happen using a credit product.
For consumers who might otherwise not be able to afford them or would have to take out a loan and pay it back over time, Buy-Now-Pay-Later can help people avoid having to wait. As Indian consumers grow wealthier and spend more on entertainment options like buying new tech, visiting restaurants, or travelling abroad, access to credit is essential for enabling these purchases for many families.
About Nimbbl
In the Nimbbl checkout, BNPL payments can be completed in a frictionless manner with a single click. It reduces shopping cart abandonment and increases conversion rates. Sign up today and get started on making profits out of BNPLs.

Conclusion
BNPL is now becoming very popular in India. Many people want to buy expensive products, but they do not have enough money to purchase these items. To overcome these issues multiple players are coming up with solutions like Buy Now, Pay Later (BNPL) to help both businesses and consumers. Businesses can sell more and increase their customer base, while customers can buy items with a high price tag even if they have a low income or fewer savings. It is a very profitable model for both businesses and customers because both parties can gain huge benefits from it.
Frequently Asked Questions
1. What is the full form of BNPL?
Buy now, pay later (BNPL) is also called a deferred payment plan in which your customer can buy products or services without paying for them immediately. 
2. Does the 'Buy now, pay later" option affect a customer's credit score?
If your customers pay off their balance using the "buy now, pay later (BNPL)" option, it will not affect their credit score. However, if they don't pay it back on time, it may negatively impact their credit score depending on the lender/issuer.
3. Why do customers prefer BNPL?
The convenience of stacked payments and interest-free smaller credits are some of the reasons why customers prefer BNPL.
5. How does BNPL make money?
The companies make money from the retailer by charging a fee when goods are purchased using a deferred payment plan. These fees vary by retailer, but they typically range between 2-6% of the purchase price.
6. Do you need to pay interest if you buy now and pay later?
Most companies that provide buy now pay later services don't charge interest if you pay on time. However, some providers may assess a fee for offering deferred payments depending on the amount spent, repayment tenure, credit score, etc.