Online shopping – all of us do it. We spend a good part of our day scrolling online shops and websites and immediately adding things we like to the cart. However, there is a little bad mixed in with every good thing, which is true with online shopping. We are talking about the "checkout process". Sometimes the checkout process can be why shoppers might end up quitting your site. Sometimes the reason is the slow-loading page, while other times, the steps are too hard to follow.
According to research, 73% of shoppers abandon the cart because of the checkout process. And that is why it is essential to have a good checkout process to ensure maximum safety and retain your customers.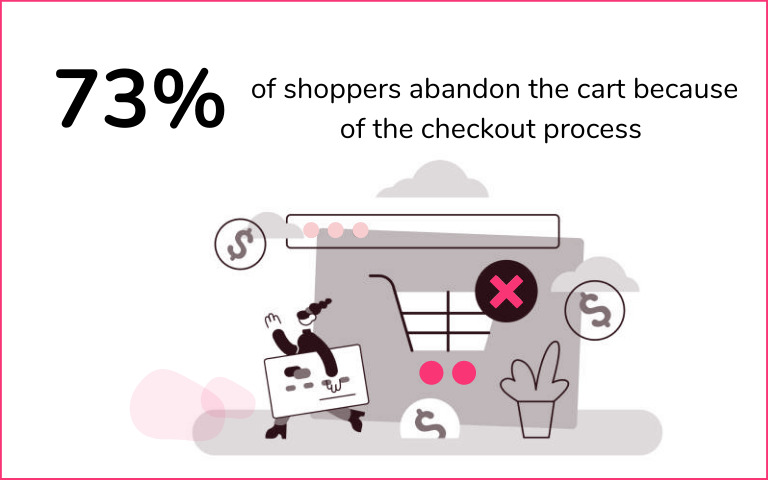 When your checkout process is seamless, you can provide your customers with the best experience and win their trust so that they can easily choose you whenever thinking to buy anything similar to your service.
Think of it like this. You visit a traditional store, put everything you want to purchase in a cart, stand in the queue to wait for your turn, and finally, when you reach there, the person at the counter says, the system just crashed, or you need to pay an extra 13% convenience fee. How would you feel? Are you dejected, right? Well, something similar is true for poorly designed online checkout processes.
The best checkout process is one that helps you, as a business, convert leads into customers, thus enhancing your business growth. When the checkout process is smooth, customers will have a great experience. Therefore, they would visit your websites repeatedly, thereby increasing your revenue.
Certain things need to be kept in mind when designing such a system. Let us help you walk through the best checkout practices with this article.
In this article, we have talked about what is a checkout process, the checkout process steps, the best ways to optimise the checkout system, and more. Stay with us till the end to find out.
Content Index:
What is a Checkout Process?
A checkout process is the entire series of steps that a customer has to follow to complete the purchase of items present in their shopping cart on any eCommerce site, including the final payment step. The integral point that must be kept in mind is that the ideal checkout process steps provide a smooth and seamless flow and experience.
Let us see what the checkout process looks like:
Shopping cart > billing info > shipping info > shipping method > preview order > payment > confirmation
These steps are somewhat the same across the different types of checkout, i.e. single-page, multi-page, or even complicated ones.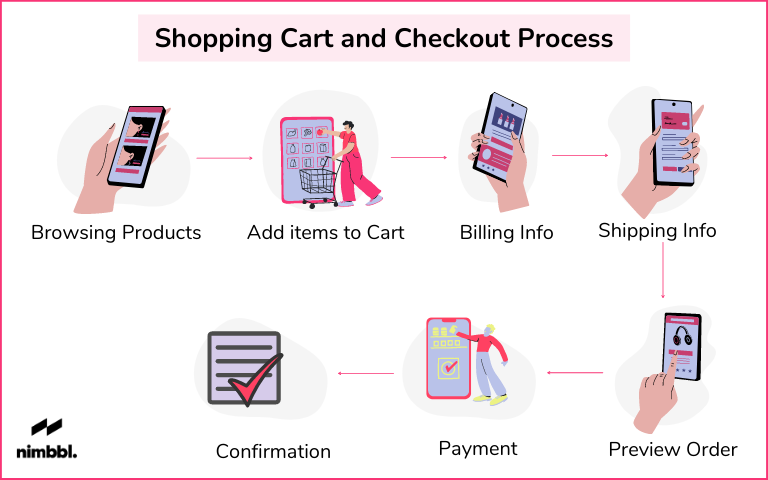 Why is it Important to Optimise the Checkout Process?
Now that we know what a checkout process is, let us understand why we need to optimise the checkout process steps.
As per research, the average rate for abandoning shopping carts is 69.8%. These are the reasons behind it:
Hidden costs or indirect shipping costs
A lengthy and complicated checkout process
Insufficient payment methods
Forced to create an account
Optimising the checkout process can help you recover your marketing and other costs along with the hard work you did to get the users up till that point. Even a small improvement in the checkout conversion rate could make a massive difference to your business and generate the revenue you need to succeed and grow.
What are the Steps Involved in the Checkout Process?
As we said earlier, specific steps need to be followed no matter the number of steps involved in the checkout process.
1. Initial Checkout:
The checkout process starts as soon as the customer leaves the shopping cart to finally pay. This is done through a call-to-action button labelled "Buy Now", "Checkout", "Proceed to checkout" or anything similar. Once the customer has engaged with these options, they move one step towards the advanced checkout process.
2. Login or Sign up:
Do not make the customers register for an account. Keep the checkout process simple without having the obstacle of creating an account, as this would only confuse the customers, and they might not like the additional hard work. You may give the option to log in to your regular customers but not first-timers. Explore possibilities to use password-less login flow to show preferred and eligible payment methods with Nimbbl.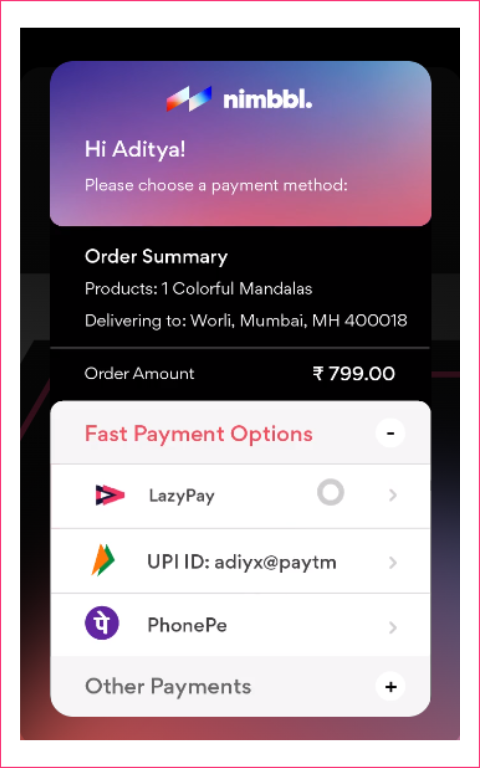 3. Billing Information:
Selecting the payment method and entering billing details is essential for any checkout system. So, keep in mind to design the form to fit all device sizes and types and have the necessary and relevant information. Do not fill your form with unnecessary details, leading to abandonment. Personalising the payment methods for every customer will let you provide a 'wow' experience. The 1-Click Checkout with Nimbbl enables you to provide the latest payment methods like Buy Now Pay Later, UPI apps, etc., without any additional effort from your customers.
4. Shipping Information:
Shoppers love eCommerce for the ease of getting things delivered to their doorstep without having them go anywhere. Now, if you don't have the required shipping information, you may deliver the orders late or to the wrong addresses. Therefore, you must keep the shipping information ideally streamlined with the form. You can create a checkbox with "Shipping address same as billing address" pre-checked. You can also show the shipping information on the payment page so that the customer doesn't have to go to and fro.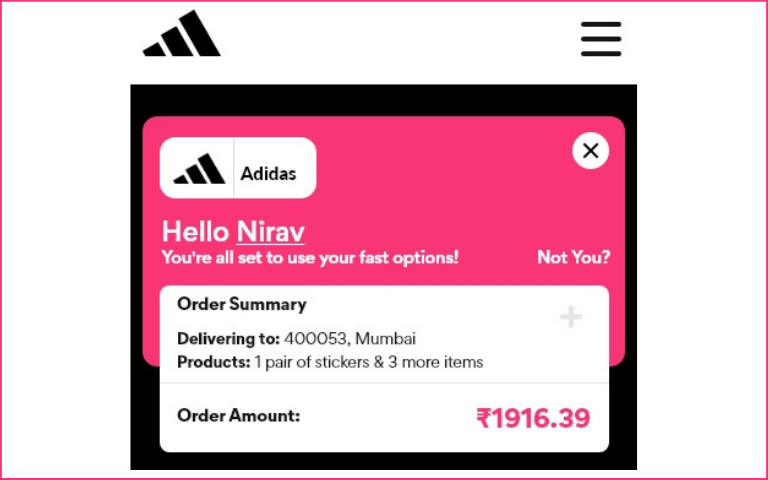 5. Shipping Methods:
Offer as much variety as possible in the shipping methods so that customers can opt for their preferred methods.
6. Preview Order:
After the customers enter their details, let them review the order. You can display all including taxes, delivery fees, and order subtotals. You can also add product details like item name, quantity, and a short description.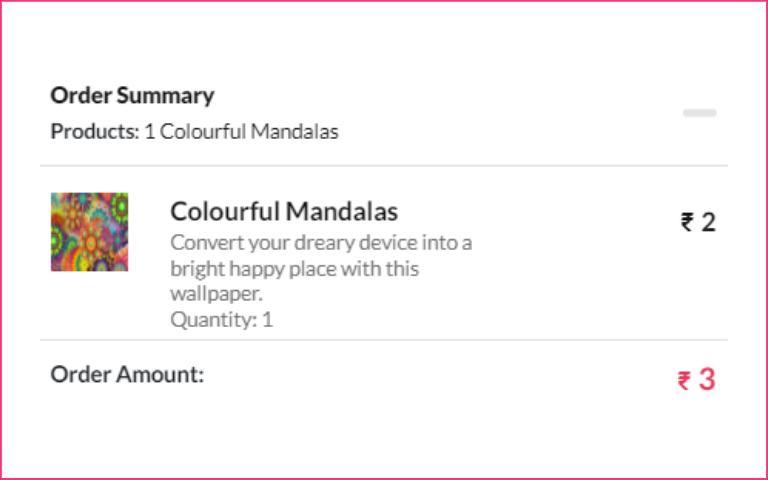 7. Payment Confirmation:
The preview screen is one screen before the final payment. It also lets your customers know about this. Add a call-to-action button at this step, letting them know that they are about to finalise the sale and pay. Since this is the final step, it must be easy to understand and trust the customers for making online payments.
How to Design a Checkout Flow for your Website?
A checkout process is ‌best when it is smooth and straightforward to understand. A UX-centric website is crucial for seamless checkout process steps so that the page loads faster, ensuring that the customers are satisfied with the services.

10 Best Practices to Optimise your Checkout Process
Have a look at some of the best practices that you can adopt for a better checkout process.
1. 1-Click Checkout, the Future for Higher Conversions
Customers love a fast payment experience where they don't have to spend more than a few seconds to complete the purchase. What if we told you that with Nimbbl, your customer makes faster payments with fewer clicks? Sounds cool, right? Well, why don't you try it yourself? Check out Nimbbl's 1-Click Checkout to know more.
2. Personalised Payment Experience without Additional efforts
Does your checkout page look like this?
Is it filled with all payment methods and your customers have to search a lot to find their preferred payment method?
The time has come to personalise this step too. To leave a wow customer experience leading to higher success rates and positive word of mouth. With Nimbbl checkout, customers are shown their eligible and fast payment methods like BNPL, UPI app, and pre-populated UPI ID up top. They are saved from the hassles of finding their cards or passwords or UPI IDs. Helping them complete the payment in seconds without any additional steps or clicks.
3. Keep it Simple
We believe this is a fact understood by all, yet allow us to tell you about it in detail. When you keep your checkout flow as uncomplicated as possible, you go a long way in increasing the conversions. You can remove the header and footer from the page to avoid any sort of confusion.
Also, pay special heed to the form designs. Do not keep the form painfully long as customers can lose interest midway. Keep it short and simple, and do not force signups.
3.1. Multiple Payment Methods in a Personalised Manner
One of the most common reasons for cart abandonment is the shortage of payment options. Certain shoppers rely upon certain kinds of payment options. For example, some might choose UPI while others go for net banking. Add all possible payment methods to your site in such a scenario, leaving no stones unturned from your end. Take special care to personalise the listed payment methods for every customer.
3.2. Support Multiple Currency Payments
In case you cater to customers from various geographies, you should allow the customer to pay in their local payment methods. Every country prefers a particular payment method. So, ensure you add multiple currency payments to your sites, making it easier for everyone.
3.3. Support Global Tax Guidelines
Taxes come with global transactions, and that differs from country to country. Therefore, you must make your site follow the different countries' guidelines if applicable for your business.
3.4. Support Multiple Languages
Imagine opening a website just to see everything written in a non-familiar language. Would you stay at that site? No, correct. Make your website language-friendly and translatable by web browsers so that customers from any country or region can easily avail themselves of the benefits of your services.
4. Make the Best out of your Checkout:
So, what else can be done to improve the checkout process steps? Leave no stone unturned to make the journey easier for your customers.
4.1. Make Upsells Easy
With upsells, you can tempt the users to buy more but make sure you do not put too much of it, hampering the UX or leaving the customers confused.
4.2. Exit Intent Pop-ups
You can do a lot with pop-ups, but you have to be creative. Add unique and creative copies so that the customers are bound to think before exiting it.
5. Develop Trust:
Customers might have doubts regarding your products or even payment options. In that case, you need to provide them with trust, share reviews from other customers on your website, and add trusted payment partners to your checkout process.
5.1. Add Customer Testimonials
Nothing comforts shoppers more than ‌positive reviews from other shoppers. When you attach customer reviews or testimonials to your processes, you build trust. This will reinforce their beliefs and reduce the risk of abandoned carts.
5.2. Give Easy Support Access
When customers are in doubt, make them believe you are there for them. Add one-tap customer support access, and do not keep the process lengthy so that they end up being frustrated and clueless about what is to be done.
6. Make it Device-Friendly and Convenient:
You would not want your regular customers to leave your eCommerce site for the mere reason that it is not flexible. Not sure what we are talking about? Well, one such thing is: Mobile-view Optimisation
Shoppers love scrolling sites through their mobiles, and if you do not keep your site mobile-friendly, you are going to lose out on a lot of potential customers. Make sure that the mobile checkout is just as seamless as it would be on any other device.
7. Not to Forget about Security and Privacy:
Security and privacy concerns are important aspects of any online shopping experience. Since it is on the internet, some shoppers might be sceptical about providing their details. Therefore, you must not let them develop any doubt during checkout. Your site must follow ‌security regulations and specific guidelines. Whenever customers are entering passwords, do not keep them open; let them be masked or hidden via special characters.
7.1. Follow Security Guidelines
SSL or Secure Socket Layer adds an extra layer of security to your site and extra trust in the minds of customers for your site as it is related to secure connection and encrypted credit or debit card information. Guidelines like PCI, CCPA, MFA, GDPR are important for payments and data privacy applicable as per regions. These build trust with customers and safeguard them from using customers' data against their will. You can also add multi-factor authentication to provide additional security for username and password.
8. Prepare a Transparent Payment Page:
Would you like it if, after the entire checkout process, at the time of payment, you are asked for an extra fee? Nobody would like that. The same goes for your customers. You must refrain from this practice. Whatever charges you are taking, keep it transparent to avoid any last-minute confusion.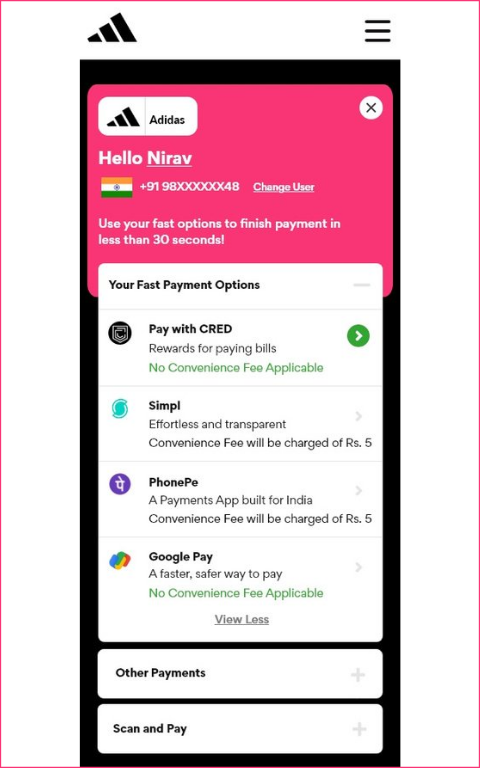 9. Use Urgency and FOMO:
One of the best ways to convert a visitor into a customer is by creating a sense of urgency or Fear of Missing Out (FOMO). You might have noticed shoppers tend to buy things on sale or the ones that are left few. Make your customers believe that the product is something that everybody is taking, so they should take it. Display ads mentioning ‌stock availability at the time of checkout, letting them know what they might be missing.
10. Test and Test till you get the Best:
There are many ways to optimise the checkout process, but you will only know them when you keep experimenting with the steps. Once you have everything in place, keep doing the A/B testing to understand the possible shortcomings or the best part about it. Remember, customers just want a smooth and simple checkout experience, and you must provide them with that to make them come back to your site time and again.
Parting words
The eCommerce checkout process is one of the most fundamental elements contributing to business success. A bad checkout process will only make you lose customers. Therefore, you must optimise your checkout process or invest in a good checkout system for long-run success.
Nimbbl's checkout comes with pre-built integrations with multiple payment aggregators and new-age payments methods like BNPL, and UPI apps in one integration.

FAQs
1. How do you optimise the checkout process?
The checkout page is significant for eCommerce businesses as it brings maximum conversions. Your website may have an attractive layout and a user-friendly interface along with a fast payment experience. To optimise a checkout system, you need to adopt certain practices in your system. Some of them include keeping the design simple, developing trust, making it device friendly and convenient for the users, and more.  
2. Does an unoptimised checkout process lead to cart abandonment?
According to research, more than 70% of users add the product to a cart but leave it due to unoptimised checkout pages. Users are looking for a sense of trust when adding their payment details online, and if you fail to provide that, chances are you will lose your customers.
This is where Nimbbl comes into the picture. It has multiple payment aggregators integrated into it, that are not just fast but also secure, thus helping you win the trust of your customers easily.
3. What is a checkout funnel?
The checkout funnel tells you how many users moved from one step to another, how many abandoned the process, and how many entered at each step during the entire checkout process steps. It is essential to have a detailed analysis of the checkout system since you know which steps shoppers enjoy and which they do not like. Once you have the required knowledge, you can focus on making your checkout system smooth.
4. What should the best checkout process look like?
When we talk about the best checkout process, it has to be simple and easy to use by the users. a fast and personalized checkout experience goes a long way to increase conversions for online businesses.