The e-payment industry has been expanding at a fast pace with various online payment solutions and types of digital payment methods available in the market today. It can be quite overwhelming for an e-commerce business owner to make the right decision when choosing an online payment solution that best fits their business needs. If you have limited options for payment processing, it might be harder to attract new customers to your store, and this can become an obstacle to getting higher sales.
That's why you need to make sure that you offer as many modes of digital payment as possible in a personalised manner. You should offer customers to pay via as many methods as possible in a super quick way. While some e-payment methods are prevalent, others are less so, so it's important to understand which ones may be best for your business and which ones you should avoid.
Introduction to Digital Payment methods and e-payments
Still wondering how e-payments work? In this article, we will discuss the different types of e-payments and digital payment methods suitable for your e-commerce business. Get answers to the frequently asked questions about these options and decide the types of online payment methods best suited for your business needs.
Content Index:
What are e-Payment Methods?
E-payment methods refer to digital payment methods used on e-commerce websites. While debit and credit cards continue to be popular, a new generation of payment methods is emerging. Online shoppers are getting more comfortable using new-age digital payment methods such as Buy Now Pay Later and UPI. These e Payment types can help you give a superior customer experience, reduce costs, increase sales and make your business more efficient.
Different Types of Online Payment Methods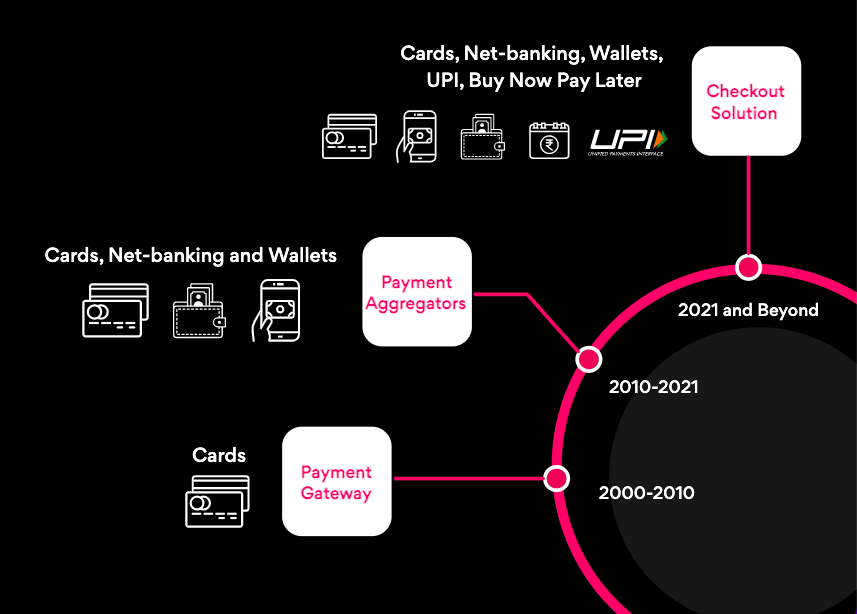 UPI (Unified Payment Interface):
Unified Payment Interface (UPI) is a payment system developed by NPCI to enable real-time fund transfers between two bank accounts on mobile devices. UPI uses IMPS service to provide a common platform to all banks in India, thereby providing interoperability between various banking services such as NEFT, RTGS, ECS, etc.
Pros:
It is a faster and more secure way to send and receive money. It provides a unique virtual address linked to your bank account (UPI ID or VPA), which anyone can use to send you money instantly.
Customers can use it in pan India.
The total number of transactions using UPI has been increasing since its launch and it is the faster-growing payment method in the country.
Cons:
There is a limit on how much money customers can transfer using UPI per transaction and per day.
In the standard flows, UPI ID based transactions are filled with multiple steps and click.
Buy Now Pay Later (BNPL):
Buy Now Pay later is a digital payment method that allows customers to purchase products online without making full payment upfront. This type of e-payment is usually interest-free and repayments can be spread out over time. Merchants get settlements for their customers' payments upfront and don't have to be involved in the re-payment process of the customer.
Pros:
It allows customers to make a purchase online without making full payment upfront.
There is no interest or hidden fees involved with buy now pay later e-payment methods.
Cons:
Some buy now pay later e-payment methods requires the customer to make a minimum purchase before being eligible to apply. 
Eligibility for customers is decided by the buy now pay later provider and is not available for all the customers.
Credit / Debit Cards:
The most common e-payment types are what you see at every checkout flow. They're easy to use and widely accepted on e-commerce sites, making them ideal for online purchases. Debit cards deduct money directly from the bank account. Credit cards give you a short-term credit period in which customers need to make the repayments.
Pros:
Accepted by virtually every retailer.
Easy to use.
Widely accepted by consumers.
Offers protection against fraud and identity theft.
Cons:
High fees (typically 2%-3%+ per transaction, depending on card scheme).
Can be susceptible to fraud or identity theft if not used on trusted sites with strong security protocols in place.
Prepaid card payments:
A prepaid card is a reloadable debit card that allows users to pay for purchases without using traditional banking services. Some customers may be wary about giving out their financial information to a third party when buying online, so a prepaid payment method can offer an extra layer of security. There are many different types of prepaid cards available on the market today, including gift cards, corporate cards, and stored-value cards.
Pros:
Customers don't have to worry about giving out their personal financial information.
Only their prepaid card number and PIN are required to checkout.
Reduces card fraud with lower limits.
Cons:
Compared to other types of e-payment methods, prepaid cards tend to come with higher transaction fees. For example, some companies charge a monthly price and an annual fee—which means that using your gift card could end up costing you more than using cash over time.
Not accepted everywhere; although many merchants now accept prepaid cards, some businesses still won't accept them.
Bank transfers:
This payment method is best suited for business transactions involving multiple parties. Banks are most convenient when working with a group because they can move large sums quickly and cheaply. Banks are often their first choice for businesses. The only downside to bank transfers is that it takes time to transfer money from one account to another (usually between 1-3 days).
Pros:
It's cheap, it's fast, and it's secure.
International transactions supported.
Cons:
It takes time to transfer money from one account to another.
Multiple form fields are required to make a payment.
Setting up beneficiaries for payments is a time-consuming process.
E-Wallets:
An E-wallet is the digital version of a physical wallet where you can store your cash, credit, and debit cards online. Like a real wallet, an e-wallet also lets you make payments and transfer money to someone else. It also enables you to receive online payments into your account and transfer funds from one account to another.
E-wallets are fast and easy to use as they do not require any lengthy registration process or bank details; sign up with your email ID and password, add some cash (and card) to it, and start making payments instantly.
Pros:
They are convenient and easy to use, as you don't have to carry your credit or debit card with you.
Most online stores and many physical shops accept e-Wallet payments. This gives more options than traditional payment methods like cash or credit cards.
Cons:
E-wallets require high trust in their providers because all your money is stored with them (in a closed-loop system.
E-wallet transactions can take longer than other payment methods because they need to be verified by third parties before they go through.
e-RUPI:
A new addition to digital payment solutions is e-RUPI. It is a digital solution that allows for cashless payments. This digital payment solution was developed with the support of DFS (Department of Financial Services) and NHA (National Health Authority) and is run by the National Payments Corporation of India (NPCI). Customers can pay using the e-RUPI on merchants accepting the UPI e-Prepaid vouchers. No card, digital payments app or internet banking access is required to make the payment. The e-RUPI is shared with the beneficiaries for a specific purpose or activity by organizations via SMS or QR code.
Benefits of Digital Payment Methods
E-wallets, Credit cards, Debit Cards, P2P Online Payment System. Many e-Payment methods provide advantages to consumers and merchants, the list can go on and on.
Electronic payments are convenient, fast, and secure:
There is no need to carry cash or credit cards with you when you pay online; all you need is a computer or smartphone and an internet connection. This means that you can make purchases anytime, from anywhere in the world.
Electronic payments are cheaper than traditional payment methods:
There are no printing, shipping, or handling costs associated with digital payments; in fact, you don't even need to invest in a cash register. You need a computer or a smartphone with an internet connection to start making electronic payments.
Electronic payments reduce your business risks:
There is no risk of loss due to theft or fraud because there is no physical exchange of money between buyers and sellers.
Digital payment methods are easy to use:
You don't need special training or a high level of computer knowledge to accept digital payments; you only need an internet connection and a computer (or smartphone) with internet access.
How to get all payment types in one go?
Nimbbl is a 1-Click Checkout solution helping online businesses accept payments within seconds. It gives customers a superior personalized experience without having to perform multiple clicks or steps. The result? E-commerce businesses get higher conversion rates and can manage their entire payment operations from a single integration.

FAQs
1. Which is the best method of digital payment?
e-commerce businesses use online payment methods to accept payments from customers. There are various online payment methods, and depending on the business type and use case, you can choose which one will work best for your customers.
2. Is a debit card a digital payment?
Yes, a debit card is a digital payment. Debit cards allow you to pay for goods and services using your own money directly from your bank account. Every time you use a card linked to your bank account funds are withdrawn from your account in real-time. If you don't have enough money in your account, it will not be possible to complete a transaction.
3. What are the objectives of digital payments?
A digital payment method is a way to transfer money from one person to another using a computer or mobile device. In today's day and age, more and more people are using e-payment methods instead of cash or checks.
4. Are digital payments secure?
Yes, e-payments are safe. However, you should always take security precautions when using any payment method. When shopping online, make sure to use a secure connection (look for HTTPS at the beginning of your browser address bar) and avoid public Wi-Fi networks.
5. How do digital payments work?
E-payment types use electronic storage devices like smart cards and tokens that carry monetary value. These can be used to make purchases online or at brick-and-mortar stores.
6. What is the future of digital payment?
According to the Market and Markets report, the global digital payment market size is expected to grow from USD 88.1 billion in 2021 to USD 383.5 billion by 2026, at a Compound Annual Growth Rate (CAGR) of 19.7% during the forecast period.