Opening an eCommerce store is a great moment for any entrepreneur, but you need to be careful as well. It is not just about building websites and listing the products. The main challenge starts after that-getting paid by the customers, and for that, you need to choose the right eCommerce payment systems. As per a report, the market size of the e-commerce industry in India is estimated to reach 200 billion U.S. dollars by 2027. The eCommerce payment system is extremely important as it allows a business to grow by accepting payments from customers online and getting them transferred to their bank accounts. This is where choosing an efficient payment system comes into action. The payment services offer complete solutions for transactions in just one gateway, so handling the transactions is much easier now.
Not all entrepreneurs are familiar with the eCommerce payment processing system, and that is why some even fall prey to misuse or fraud in terms of payments. But no need to panic, in this article, we will be discussing the eCommerce payment systems in detail. Let's get started.
Content Index:
The E-Commerce payment system in India
As the name suggests, the eCommerce payment system is responsible for accepting and disbursing payments. Small and mid-sized businesses have a hard time balancing the required resources and technical configurations. So, what is the solution then? The answer to the above problem is a solution that provides all payment methods to customers, gives a personalised experience, and simplifies the integration and onboarding process involved in accepting payments.
Main elements of eCommerce payment
We already know the eCommerce payment system helps you manage the transactions for your eCommerce store. Let us now quickly look at the main components or elements of the eCommerce payment:
Payment Gateway (PG)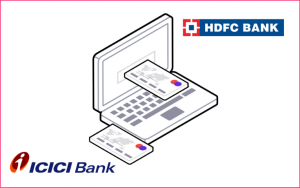 It is software that enables businesses to accept credit/debit card payments on their website or app.
Businesses need to have individual accounts and integration with each provider.
Examples: Banks like HDFC, ICICI, Bank of Baroda, SBI among others
Payment Aggregator (PA)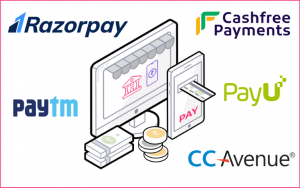 A company that helps businesses ‌accept payments through multiple payment methods on their website or app.
It bundles multiple Payment Gateways and payment methods into a single integration.
Eg Razorpay, PayU, Cashfree, Paytm, CCAvenue
Checkout solution
A technology layer on top of ‌payment aggregators (PAs) with a focus on new-age payment methods along with the traditional ones.
It bundles the best of multiple payment aggregators into one integration with a focus on superior customer experience.
Examples: Nimbbl, Bolt
What are the different eCommerce payment solutions and methods?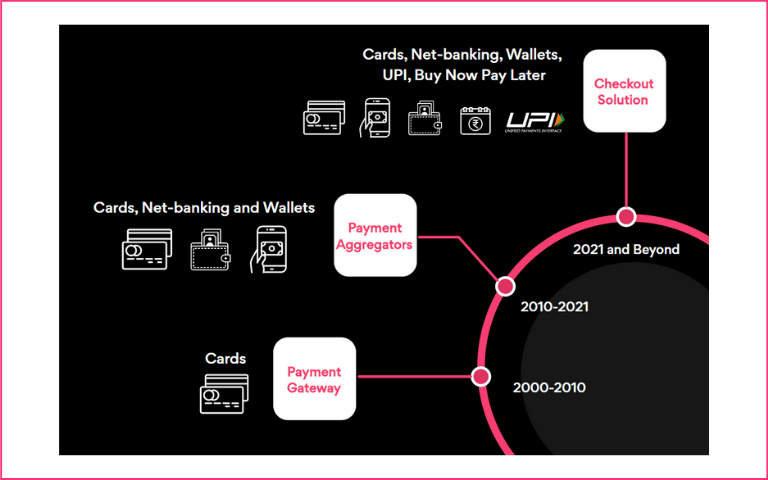 Let us now look at some of the best and most commonly used eCommerce payment methods that customers choose to make payments online:
Credit / Debit cards:
Credit and debit cards are easy to use payment methods that can be used in both online and offline purchases. They are the most popularly used payment method among all methods.
UPI, BNPL payments:
App payments are the new name for making transactions. It is convenient to use. All customers need is to enter a password or PIN to initiate the transactions. The most common eCommerce UPI payment apps are GPay, PhonePe, Paytm, and some of the well-known buy now pay later solutions are Lazypay, Simpl, ICICI pay later etc.
The flow of transactions in different payment solutions
One might wonder how the transaction flow works in eCommerce payment systems. Let us have a look at a standard card transaction flow here: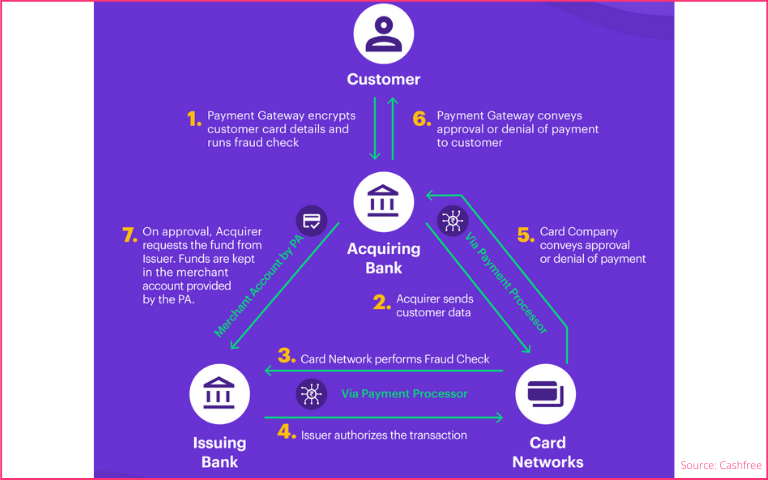 The transaction process starts after the customer has finalized the products, added them into the bag and is now at the checkout page. Customers then enter their transaction details on the checkout page.
The role of the payment gateway is to capture the financial information safely and forward them to the acquiring bank.
Now, the acquiring bank does a fraud check and, based on that, sends the information to the respective card schemes/card networks, i.e., Mastercard/Visa/American Express etc. It is then upon the card scheme to accept or deny the transactions. The following parameters help form a decision:
Information about the customer's PIN, passwords, CVV, etc.
Two-factor authentication
Cheques, account numbers, physical cards, etc.
4. Once the card scheme is sure of all the information, it gives a green signal, and the information is then transferred to the customer's bank, also known as the issuing bank. Then it is the role of the customer's bank to check whether the customer has enough funds in the account or not.
5. Based on that, the approval or denial of the transaction is forwarded following the same route, i.e., Customer's account > Card scheme > Acquiring bank > Payment gateway > Merchant > and then the Order Success / Fail message for Customer.
6. Now, when the payment status is accepted, the acquiring bank requests funds from the customer's bank, and that is how the transaction is carried out smoothly.
Features to look in eCommerce payment
The eCommerce market is booming, and that is why payment processing in eCommerce has to be more stable and advanced. The Indian eCommerce market is expected to reach US$ 350 billion by 2030. Some of the features that must be present in eCommerce payment systems are:
Should accept transactions through different payment methods, including card payments, UPI, BNPL, e-Wallet, etc.
Offer a fast payment experience for customers, with higher conversion rates
Must allow easy integration of multiple payment gateway aggregators to save the efforts of adding information manually.
Must be capable of offering detailed reporting to help you make more informed decisions.
The eCommerce payment system must be capable of providing refund options to the customers.
Types of eCommerce payment systems
The different types of eCommerce payment systems are:
1. Hosted payment gateway
Hosted payment gateway is easy to set up. These payment gateways allow you to accept payments on a single page provided by the payment service provider (PSP). These payment gateways take care of PCI compliance.
2. Self-hosted payment gateway
The self-hosted payment gateway works on the payment page created by the merchant. Here, the merchant has complete control over the user experience. Besides, the customers stay on the merchant's site and are not directed to any other domain. But a self-hosted payment gateway requires more technical expertise and resources. Additionally, the merchant remains in charge of PCI-DSS Compliance.
3. Off-website
The off-website payment system is where payment is not made through the website but through any external link or social media. You can create a payment link with auto-filled details about the payment price or purpose, etc. The link is then sent to the customers, who, upon clicking the link, can complete the transaction by choosing their preferred mode of payment.
These app links can be shared through messages, emails, social media, etc. Moreover, QR links are also a method for eCommerce payment through off-website mode. With QR codes, the cash on delivery orders can be converted into online payments. Furthermore, the QR code can be static or dynamic, depending upon your need.
How do eCommerce payments work with Nimbbl?
Nimbbl is a one-click checkout experience that allows all payment methods and technologies to be unified in one integration. As the platform can easily integrate the top payment gateways, including Cashfree, PayU, RazorPay, etc., together, in a single place. The fast checkout reduces the cart abandonment rate and authorizes the transfer of funds between the sellers and buyers. With Nimbbl's checkout page, the eCommerce stores can easily accept payments from the customers for the products they are purchasing.
Nimbbl is focused on improving conversions for online commerce merchants and aims at providing super easy payment solutions. All you need is a single click, and customers can purchase anything. It is fast, simple and reduces shopping cart abandonment.
To Conclude
Whether you are just starting out or are a well-established business, payment forms the core component of your business's success. While there are a lot of options available in the market, you need to make sure the eCommerce payment system that you are choosing can address the specific needs of both the merchants and customers.
Selecting a suitable payment processing in eCommerce is an important decision as it will decide how your business will continue to grow. And Nimbbl can easily help you with that. Nimbbl offers one-click checkout for a better customer experience. Boost your business with the best checkout experience.
FAQs
1. Which is the best payment method for eCommerce?
The most common eCommerce payment methods are debit and credit cards. However, there are certain other popular methods too that the customers opt for while making a payment for eCommerce. The best ones include UPI payment apps like Gpay, Phonepe, Paytm, etc., BNPL and more
2. What is the fastest payment method?
Though there are multiple options available for eCommerce payments that are making the lives of both buyers and sellers easy, the fastest payment method is transactions through payment apps and debit and credit cards. With new-age payment methods like BNPL, UPI payments can be completed in seconds.
3. What are the risks of an electronic payment system?
The electronic payment system relies on the internet heavily for transactions to be carried out and has its own share of risks for both financial institutions and consumers. Electronic payment systems can fall prey to fraud. If someone has access to your password and security questions, he can easily make transactions through your account.
5. What is a payment processing system?
A payment processing system means a set of processes and technologies that are used to complete transactions and transfer monetary value from one account to another. The payment processing system is employed by the merchant to handle the payments from the customers.