Cart abandonment at checkout represents lost sales opportunities. It is a significant challenge for e-commerce businesses that can reclaim most of their lost sales by implementing better checkout designs and an effortless payment experience. While you can never reduce the cart abandonment rate to zero, you can improve it to increase your conversion rates. Learn about the factors that contribute to high checkout abandonment rates and how to recover lost sales in this article.
Content Index:
What is checkout abandonment?
An abandoned checkout is when the customer adds things to their cart but doesn't complete the purchase. The ‌checkout abandonment rate is a metric used to measure the proportion of transactions at checkout that customers didn't complete.
Abandoned checkouts usually happen at the late stages of the buying experience when the customers are so very close to buying. The customers abandon the shopping cart after initiating the checkout process, leaving the transaction incomplete. Therefore, by addressing the factors leading to a high checkout abandonment rate, businesses can increase conversion and marketing ROI.
Checkout abandonment vs. Cart abandonment: What is the difference?
Shopping cart abandonment is when customers add items to their shopping cart but leave the website or app without even reaching the checkout process.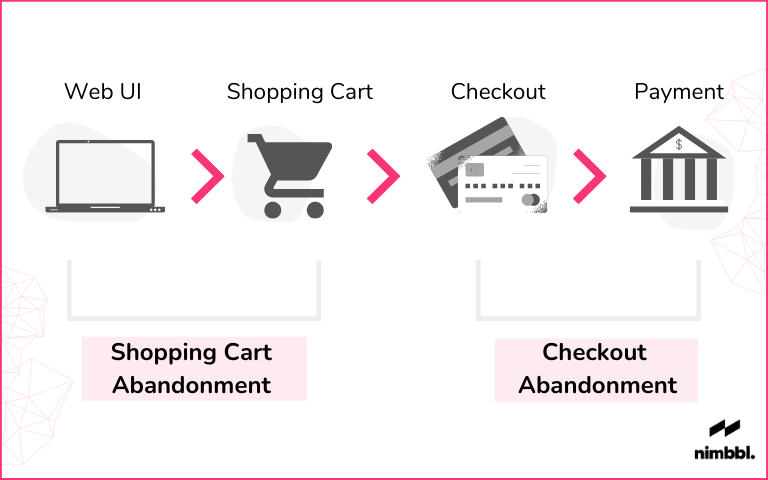 In checkout abandonment, customers leave the site or app during the checkout process, i.e., at the payment stage. Therefore, the critical differentiator between the two abandonment types is the stage in the customer's buying journey at which they abandon the purchase.
Checkout abandonment rate
The checkout abandonment rate is the percentage of customers who initiated the checkout but left the website or app without purchasing. The rate indicates the proportion of unsuccessful checkouts or transactions.
A high checkout abandonment rate means there are problems with the checkout process. Conversely, a low checkout abandonment rate means customers are satisfied and happy with the checkout experience.
How to calculate the checkout abandonment rate?
You can calculate the checkout abandonment rate by dividing the total number of transactions or orders completed by the total number of checkouts initiated.
The value is then subtracted from 1, and the resultant number is multiplied by 100.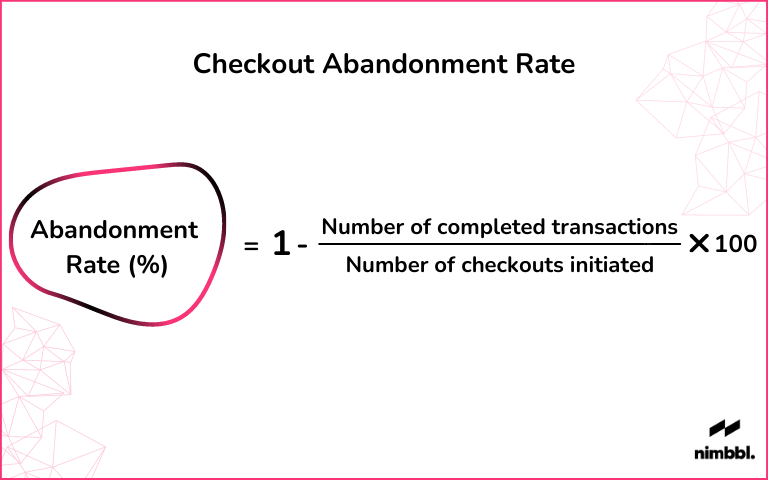 What is an average, good, or bad abandonment rate?
The checkout abandonment rate varies based on industry verticals and product segments. The rate cannot be generalized for an industry or product/segment as considering factors like brand, price category, or geography may also impact the rate.
The average cart abandon rate for different industries ranges from 61% to 89%, as of March 2021, with the automotive sector having the highest rate.
Cart abandonment rate calculates the total cart abandonment and includes the carts abandoned both before and after checkouts. The checkout abandonment rate will always be less than the cart abandonment rate.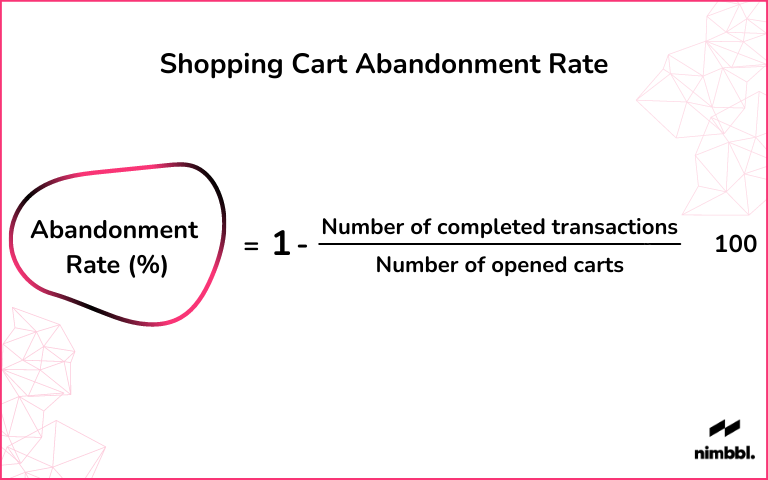 Checkout abandonment rates vary based on industries, geography, internet speed, devices, and other factors. You can leverage the insights from the data you have collected and then compare the data with trends within your industry.
The most common reasons behind checkout abandonment
For e-commerce enterprises, it is crucial to understand the reasons causing their customers to leave their carts. Based on multiple studies, the top contributing factors for abandoned checkouts are:
Let's have a detailed look at the checkout abandonment reasons:
High Additional Costs
In addition to product costs, customers have to pay additional charges such as shipping costs, taxes, and fees that make the purchase prohibitively expensive. This is the most significant factor leading to high cart abandonment, at the checkout stage when customers discover high additional costs.
Therefore, the cost is an essential factor governing customer decisions to complete a transaction in eCommerce. You need to declare the total cost to the customers at an appropriate stage in their online buying journey rather than surprise them with unexpected expenses later during the checkout process.
For instance, free shipping is a great incentive to encourage customers to purchase online. Transparency and effective pricing are vital to reducing abandoned checkouts. Here's an example showing the convenience fee at the checkout –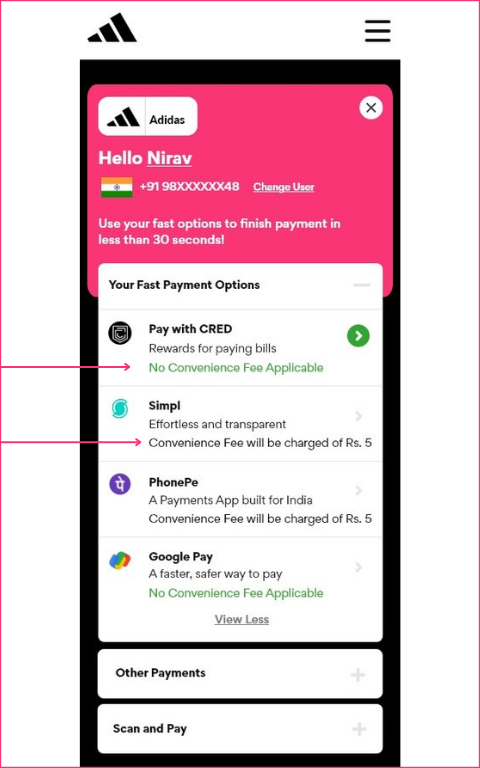 Long Checkout Process
A poor customer experience at the checkout is the second-most significant factor contributing to abandoned checkouts. Almost a fifth of US online shoppers have blamed a long and complicated checkout process for checkout abandonment.
The average US checkout flow contains 23 form elements displayed to customers. However, eCommerce businesses should limit an ideal checkout flow to only 12–14 form elements.
This clearly shows that customers have to handle too much information at checkout, even when there exists an opportunity to optimize the process by reducing form elements.
Poor Payment Experience
In addition to many form elements, a poor payment experience during the checkout process is another significant factor leading to checkout abandonment.
According to a Nimbbl study, 25% of shopping cart abandonment happens due to poor payment experiences. We found that a lengthy payment process with too many options or missing payment modes leads to user bounces and payment drops. Another cause of poor payment experience is authentication failure because of an incorrect verification code or the bank declining the transaction.
Some other factors causing poor payment experience for customers are integration failures or issues on the customer's end, such as insufficient balance or poor internet connection.
The solution is a personalized payment experience for each customer with their preferred payment methods. In an ideal scenario, the customers are shown all relevant methods only after due API verifications to avoid situations like insufficient balance, bank decline, etc.
In the Nimbbl checkout, with payment methods like BNPL, UPI, customers can complete their payments in seconds!
If you can improve the payment experience, you can recover almost a quarter of lost sales due to abandoned checkouts.
Asking customers to sign up to finish the transaction
Customers want a fast checkout experience. That doesn't happen when they're forced to create or register a new account during payment. Such a forced approach to account creation skyrockets the average checkout abandonment rate.
You might increase the number of customer data by requesting them to create an account. However, that slows down the checkout process and may lead to abandoning the cart in the worst-case scenario.
Even existing customers find it challenging to remember login and passwords, and they may also prefer not to proceed with the transaction. Excluding account creation from the checkout process and getting those customers to register and create an account in an alternative way is a great idea.
For instance, you can provide a link to the account creation page at the end of checkout for new customers or send a follow-up email for account opening.
Website and app trustworthiness and performance issues
Before customers start shopping online, they form an opinion based on website and mobile app load times and ease of navigation. Suppose your website and apps are slow or laggy during the checkout process; in that case, the negative perception will lead customers to leave transactions incomplete, causing the average checkout abandonment rate to rise.
Also, with many people becoming victims of identity theft, customers are cautious when submitting personal and financial data during online checkout. The lack of trust in the site's ability to ensure data privacy is why these customers abandon carts during checkout. 
Therefore, your site and app should have enterprise-grade security with appropriate certification and a guarantee for secure transactions to keep checkout abandonment rates low.
How to avoid checkout abandonment?
The main factors contributing to high abandoned checkout rates are design and process complexity. Simple design changes and process simplification and modification will help to reduce abandoned checkouts and increase conversions.
7 ways to avoid checkout abandonment are listed below:
Follow transparent policies to inform customers upfront of all costs associated with a purchase to avoid surprises at the time of checkout.
If shipping is not free and additional fees are applicable, include the information when customers view the cart before they click the "checkout" button.
Limit the form elements to the minimum in the checkout flow.
Ensure ‌website and app performance, such as load times and navigation, conforms to industry standards.
Don't insist on transactions through registered accounts only.
Provide reliable and secure payment options.
Provide a personalized 1-Click Checkout payment experience with preferred payment methods easily visible.

Ways to reduce checkout abandonment and increase conversions
There are proven ways to reduce checkout abandonment and increase conversion by helping your customers complete the transactions. These are as follows:
Understand customer intent
The all-around access and anonymity of online shopping make it easy for people to access e-commerce sites and apps. A better understanding of the intent of customers who abandon the cart is crucial for taking appropriate corrective action.
A quantitative study of reasons for cart abandonment by Baymard Institute found that 58.6% of US online shoppers abandoned the cart because they were not ready to buy and were just browsing.
Checkout process optimization
The long and complicated checkout process is one of the significant factors for an abandoned checkout. The checkout process can be optimized by reducing the form elements to the bare minimum. Implementing steps such as one-step checkout for online shopping websites and apps could help reduce abandoned checkouts and increase conversions.
Nimbbl offers 1-Click Checkout for businesses that want to offer their customers faster payments with fewer clicks. Your customers need not spend time finding and entering multiple credit card/net banking details.
Improve payment experience 
One of the crucial steps in the checkout process is payments, and many customers abandon the cart due to poor experience. The poor experience is due to limited payment methods, authentication failures, and other technical reasons.
Allow guest checkout
Forced account creation is one of the reasons for customers abandoning the cart at the checkout. Some shoppers want to complete transactions as fast as guests without registering or opening an account.
The guest checkout option may not be feasible for some regulated industries where KYC (Know Your Customers) norms are in place. Still, the choice can be offered in the online shopping experiences of non-regulated industries by asking for basic minimum information and passwordless login to complete the transactions.
Inspire confidence with security and privacy credentials
The lack of confidence in website and app security is a significant factor for abandoned checkouts. Trust seals and badges are important in gaining customers' trust and confidence. You can acquire industry-standard certifications and add badges relevant to your industry vertical on your site.
How to recover abandonment checkouts?
Exit-intent pop-up
It is an excellent idea to target ‌customers before leaving the site. Combatting cart abandonment with an exit-intent pop-up is one of the easiest ways to recover the abandoned cart. You can include add-ons like discounts or free shipping in the pop-up's message to encourage customers to complete the transaction.
Send recovery emails
Email is an effective way to follow up with customers to complete the transaction. You can include pitches in additional discounts to motivate them to pick up their carts again and take them through the checkout process to complete the transaction.
You can also use the email to get feedback from customers for reasons for cart abandonment. The effectiveness of the recovery email will depend on the effectiveness of your campaign, considering customers are inundated with too many emails.
Use push notifications
Push notifications are another effective way to recover abandoned checkouts. You can create your notification and choose when you would like the notification to go out.
Retargeting ads
Retargeting ads are significantly effective in getting the shoppers back to complete the transaction they abandoned during the checkout. According to a survey, 60% of respondents said that a retargeting ad or email would encourage them to buy products they initially left.
Personal outreach through phone calls
If customers have provided their phone number, then a personal outreach to your customers to check the reasons for abandoned checkout and if they need help to complete the transaction could help reclaim the business.
Conclusion
Checkout abandonment is lost sales opportunities for e-commerce sites and apps, which businesses can recover through proper analysis of customer behaviour data. 
Analytics can provide valuable insights into why customers abandon their carts. A significant number of cart abandonments occur during the checkout stage due to the lengthy process and poor payment experience.
You may not be able to reduce the average checkout abandonment rate to zero, but you could reduce the rate by improving the checkout process and payment experience.
Nimbbl is an online payment company offering a simple one-click checkout solution. Our agile payments solutions for the checkout offers easy access to leading Buy Now Pay Later providers, popular UPI apps, and pre-built interfaces with numerous payment gateways.

Frequently Asked Questions (FAQ)
1. How do I stop checkout abandonment?
You can prevent checkout abandonment by optimizing the checkout process, improving the payment experience, allowing guest checkout options, and showcasing your security and privacy credentials by displaying badges and seals on your sites.
2. Why do customers abandon the process during checkout?
The customers do so due to prolonged and complicated checkouts, a poor payment experience, forced account creation, and a lack of confidence in site security and privacy credentials. 
3. What does high cart abandonment mean?
High cart abandonment equals lost sales opportunities and indicates poor online customer experience of your site or app. A detailed analysis of cart abandonment will help you uncover the reasons for high abandonment rates and take corrective action.