Today's customers are smart and have a firm idea about a good and a not-so-good checkout experience. Online businesses with a personalized fast checkout experience not only win customers' hearts but also get a higher wallet share. 
New-age fast payment methods like Buy Now Pay Later (BNPL), Unified Payments Interface (UPI) are getting much customer love. This can be seen in the exponential growth they are witnessing. In 2021, BNPL accounted for 2.1% of global e-commerce transactions, according ‌to the FIS 2021 Global Payments Report. This figure is expected to double by 2024 when BNPL will account for 4.2% of global e-commerce sales. 
Fast payment methods at the checkout make it easier for customers to buy more and encourage longer browsing times. But how to ensure contextual discovery of Buy Now Pay Later, UPI payment modes with a fast checkout experience? What are the current challenges, their reasons, and what is a 1-Click Checkout experience? Let's find out. 
Content Index:
What are the current checkout challenges?
Complicated Checkout Process –
According to a study, 18% of customers leave the product in the cart due to the complicated checkout process. And the average cart abandonment rate across all industries is close to 70%. Here are some of the other reasons for abandonments during checkout: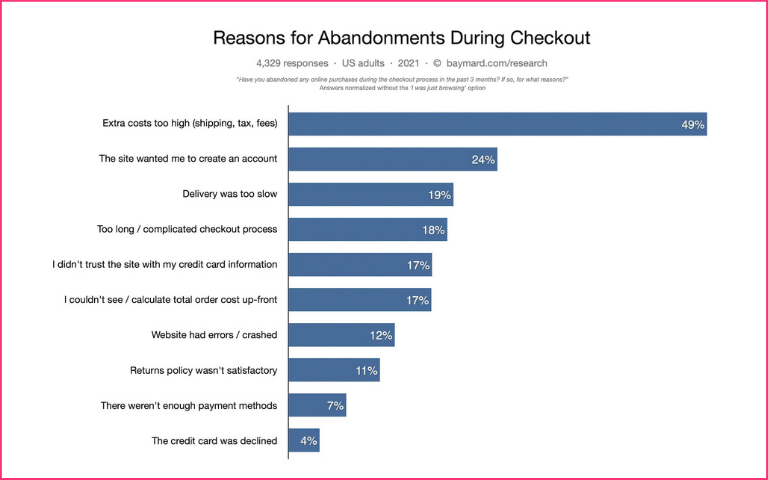 Here's the impact of the Nimbbl one-click checkout where we are able to reduce ‌checkout abandonment rates and tackle ‌common drop-off reasons: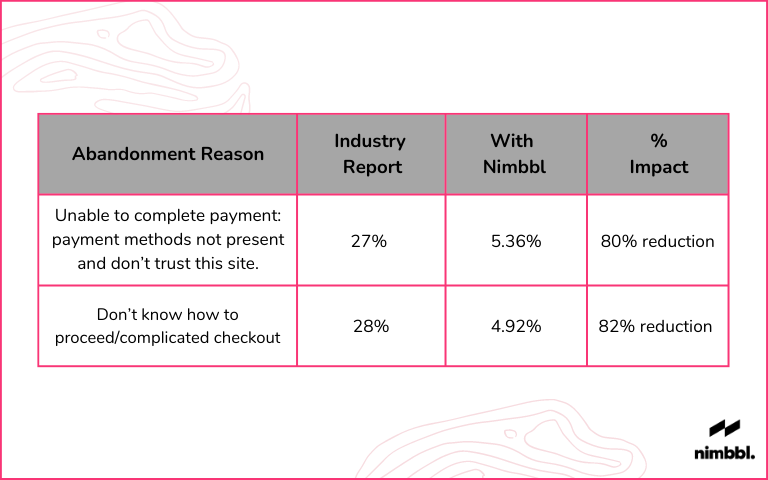 Lengthy Checkout Time
The more time it takes for a customer to checkout, the more are the chances to change their buying decision. A lengthy, full of friction checkout experience filled with account creation, login passwords, or multiple OTPs to access payment methods and complete the payment leads to an increased checkout time. One such example is a card flow with multiple steps to complete the payments filled with multiple entries and OTPs.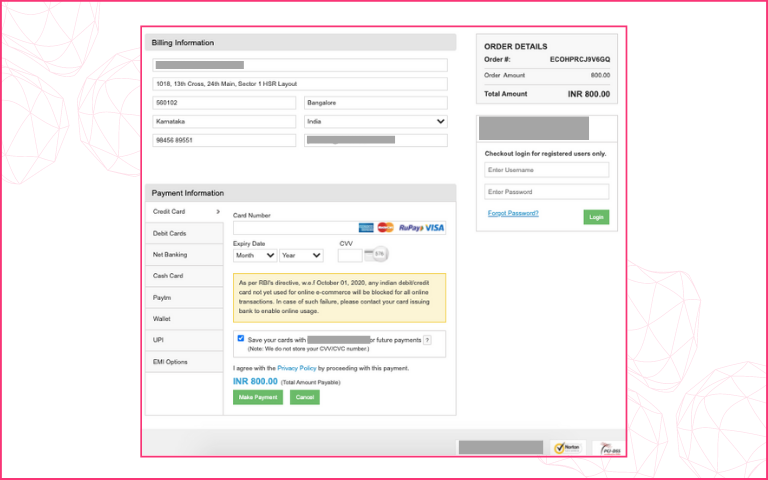 With the Nimbbl Checkout, customers can see and use their preferred and fast payment methods like Buy Now Pay Later, UPI, UPI Id without additional steps or clicks. For UPI ID flow-based payment via Nimbbl Magik UPI, we are able to drastically reduce the time to complete the payment.
You can experience the Nimbbl checkout flow here – https://shop.nimbbl.tech/
Poor Payment Experience
Do your customers have to do the following steps to complete the payment?
They land on the payment page
See a plethora of payment methods listed in multiple rows
Search and struggle to find their preferred payment method
Selects a payment method say, credit card
Enter card details and OTPs
Finally, comes back to the order confirmation page
What if the customer wanted to use the convenience of a BNPL or UPI payment method but couldn't discover it in the checkout flow?
The above flow is an output of the standard integrations used across categories. The result, poor experience, irrelevant payment methods at the checkout, lack of discovery for fast payment modes like BNPL and UPI.
This flow, i.e. users not being able to find their preferred payment methods leads to 7% shopping cart abandonment.
How to Overcome the Current Challenges?
Online merchants lose 62% of customers who experience a failed transaction. So, how do you avoid payment failures and improve your checkout experience? Here are a few tips –
Eligibility and Availability Checks
Imagine pre-approval checks happening behind the scenes via APIs when your customers click on proceed to checkout. And when they land on the payment page, they are shown payment methods that are passed or approved via the Eligibility and Availability APIs. How does this help? Apart from customer intent, most other reasons for payment failures are taken care of here. Giving you higher success rates and more sales.

New-Age Payment Modes: BNPL & UPIs
Improved discovery of BNPL, UPIs and displaying them on top is a win-win situation for both you and your customers. With the ease of payments, you get more customers who prefer the latest payment methods over the traditional ones. Redseer estimates India's BNPL market will rocket to $45-50 billion by 2026 from $3-3.5 billion now. The research firm also estimates that the number of BNPL users in the country may rise to 80-100 million customers in 2026 from 10-15 million now.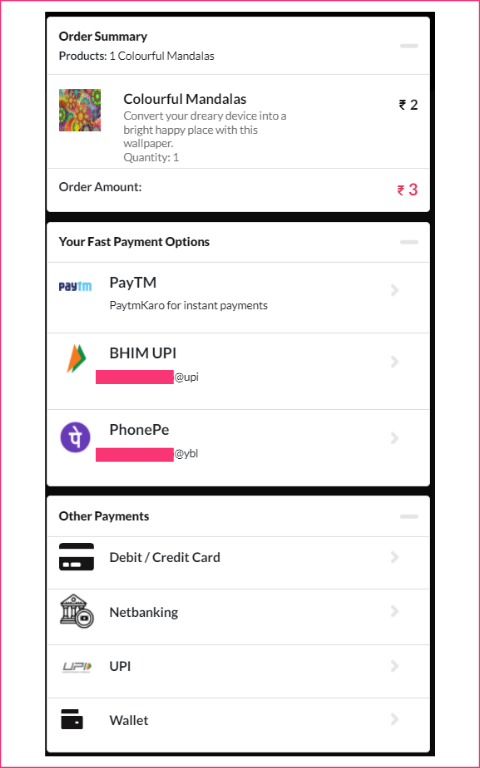 Order Summary on the Payment Page
Offering an order summary on the payment page along with quantity, shipment, total amount details is crucial. It helps in reducing the chances of the customer going back and forth between the order summary and payment page. This can lead to payment failure. This also helps in building credibility between you and the customer as you reassure them about the payment they are going to make, with a declaration of extra charges(if any).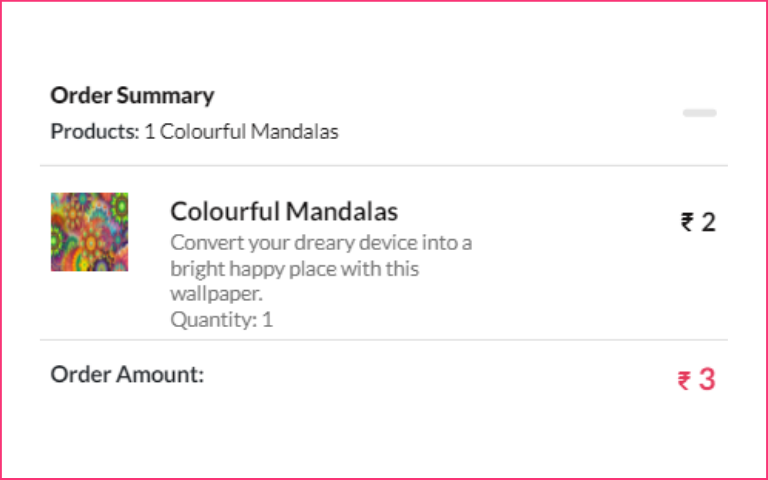 Enter 1-Click Checkout Experience
Imagine, your customers come to the checkout page, see eligible and available payment methods pre-loaded. All they need to do is tap on the payment method and the transaction goes through!
No account creation, no passwords, no login, no OTP to access saved payment methods. Yet every customer sees payment methods personalized for them.
All this with order and delivery details like quantity, amount, product information, and address to avoid going back to the previous page to confirm.
It's 2022, personalisation is the key. Right from the first touchpoint to the payment experience. Every step matters and can lead to higher conversions for online businesses. With the ‌ease of payment taking the front seat, it's critical for online businesses to switch to new-age payment providers. Grow your business with Nimbbl.