"To understand is to perceive patterns."

Isaiah Berlin
Vasudha is a fun-loving yet very disciplined person. 'A boss lady' – as we like to call her, she also has a deep connection with patterns since childhood. Mandala art transports her to a world of imagination and surrealness, she always believes. I know her as an excellent team player, who recognises that knowledge is meant to be shared and is one of the greatest assets that we can possess. She is blessed with an eye for finding bugs in the code and has further honed her skills with her passion for the work that she does. Here's spilling the beans about her love for Mandala art and how she solves challenges with confidence.
Give me three adjectives you would use to describe yourself.
Easy going. Sincere. No-nonsense.
Tell us about your love for mandala art and other hobbies and interest outside work.
I love:
Painting 🎨
Watching web series and movies 🍿
Dancing 💃🏻
Attending live standup comedy shows 🎭
Trying out different kinds of food 🥘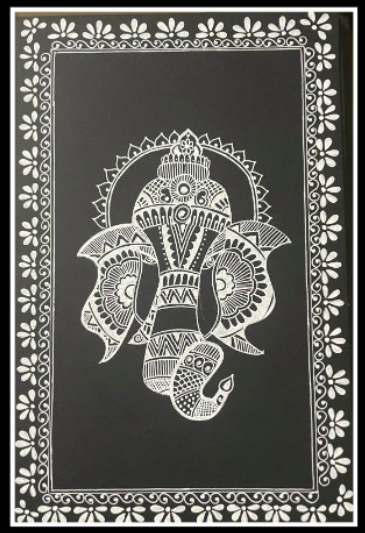 My painting journey took off when the lockdown just started in April 2020. I started with basic sketching with a pencil, then my interest started to grow with painting with watercolours and slowly I tried my hands out on acrylics and mandala art. Defined patterns always fascinate me. Now I make different types of mandalas – black and white, coloured pens, coloured mandala, rainbow-themed and so on. I love doing that.

Tell us about your favourite show?
Yes, why not. I can say that I have watched 'Sarabhai vs Sarabhai, 'Friends' and 'This is Us' 100 times and am not bored yet!
Tell us about your journey building the QA function at Nimbbl?
Yes, building the team from scratch was very challenging because I had to perform the role of an Individual Contributor as well as a manager. However, it was a blessing in disguise for me since I got to understand the product from the root level and now I am confident in sharing that knowledge with new team members as well. Challenges make you stronger and prepare you for better things ahead.
What is it like to be part of the QA function at Nimbbl?
A QA has a lot of responsibilities on the shoulder, but I never felt pressurized about that. I always had an eye to find bugs and deliver products of high quality. As far as QA at Nimbbl is concerned, it is really challenging and exciting as well! The more challenges you face, the more you get to know about the product; thus you grow more. Also, I am a quality assurance manager at home too! I want things to be perfectly in place, neat and clean.
What keeps you motivated and energized at work?
The challenges that I face daily, and the ownership of my team are equally responsible for imparting me the confidence and motivation to keep it going. They always motivate me to never give up.
What do you like to do after a tiring day at work?
Two things. Watching live standup comedy and exploring restaurants nearby. Also, a power-packed dance session makes me feel really good.
Tell us about a time you laughed out a lot at your work-related blunders.
There was a feature change related to Nimbbl pages. I checked that change by editing an existing page but skipped testing it for new page creation and the issue was caught directly into production. Though it was fixed and released in no time, it was silly of me to skip that part of the testing process. I and my team laughed a lot about what happened that day!
Vasudha's story makes you feel like joining us? We invite you to explore working with our diverse team members in our QA, engineering and other functions.
Check out our careers page: https://nimbbl.biz/careers