Unified Payments Interface (UPI) is a robust, instant real-time payment system that also offers many banking services and features on one platform. UPI was developed as a payment solution by the National Payments Corporation of India (NPCI), the nodal organization for all digital payments. After the successful pilot launch with 21 member banks in April 2016, banks across the nation began launching their UPI-enabled apps on the Google Play Store in August 2016. Today, the UPI platform is the fastest growing payment method in India. Real-time payments can be made remotely using a mobile number or virtual payment address (UPI ID or VPA). UPI for businesses is essential for online merchants to cater to the growing demand for UPI as a payment method by customers. In this article, let's dive into the details of UPI for businesses.
Content Index:
How does UPI work for businesses?
The Economic Times reported that in 2021, about 4,000 crore UPI transactions worth Rs 73 lakh crore were seen.
NPCI now expects the UPI platform to hit 100 crore transactions per day after the Reserve Bank of India enables the use of UPI wallets for low-value offline transactions. The surge in usage is due to the ease of use and simplicity of transacting anywhere at any time.
Unified Payment Interface or UPI is an interface through which one can transfer money to bank accounts in a single window. This means you can send or receive money via a link or scan a quick response (QR) code to pay a person, merchant, or service provider to make a purchase, pay bills, or authorise payments.
1. Setting up a UPI account
All you need to register your bank account is an operating bank account number and IFSC code. When incorporating UPI for a business, current accounts need to be linked. UPI masks the sender and receiver's bank account numbers and IFSC codes, providing an added security layer to transactions. A user can create a UPI account by following simple steps: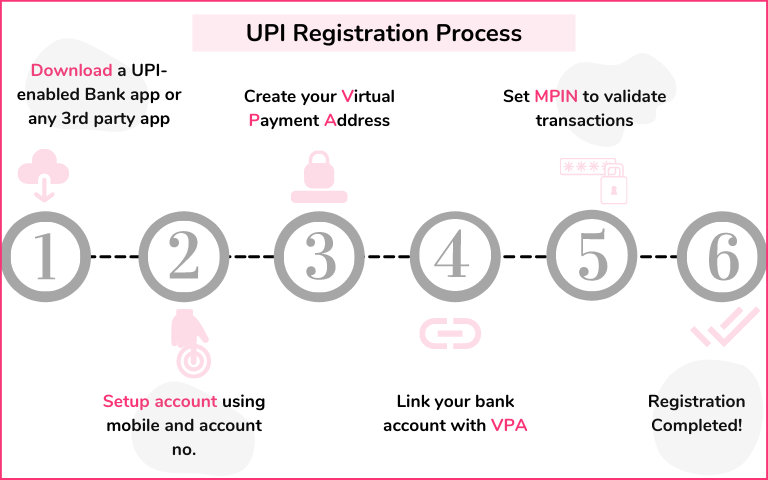 Prerequisite: A mobile number must be registered with the UPI-member bank you hold an account.
Get an app that supports UPI on your smartphone. Choose one from Google Pay, Paytm, PhonePe, Cred, Paytm, Amazon Pay, MobiKwik, BHIM, SBI Pay, BOB UPI, or any other preferred one.
The app generates a virtual ID – a unique identification code used for transactions.
Verify bank account through OTP.
Set up Virtual Payment Address (VPA) or UPI ID – something like a unique email address, for example, xyz@mybank.

2. Doing transactions
Using UPI for transactions is very simple and convenient. To make payments, all the user has to do is input the virtual ID of the sender and the confirmation PIN, and the amount is automatically debited from the linked account.
Using UPI to accept online payments for business
UPI uses several standard methods for collection.
1. Collection through payment gateway or payment aggregators
The most reliable option in payment processes is through service-provided fund transfer through the payment gateway. The Payment Gateway (PG) UPI flow requires the apps to be compatible with web and mobile OS.
2. Collection through in-app UPI payments
The in-app option directly displays customers' UPI-related bank accounts on the merchant app, providing an enhanced payment experience.
3. Collection via UPI payment link
UPI Payment Link option allows businesses to create easy-to-share links together with invoices with their customers via SMS, email or WA. The link is used to collect payments.
4. Collection via dynamic UPI QR codes
UPI Quick Response (QR) codes are graphical encryption that allows accepting payments through UPI. Offline P2M payments are made easily and quickly by embedding a QR code with graphical encryption of payment details with autofill details in Dynamic Code.
5. Collection through subscription plans
This is an option to create a subscription plan for your customers and allow them to enable auto-debit on their UPI-linked bank accounts. This can be enabled by the user with one-time UPI command authentication. The payment frequency can be set weekly, yearly, or monthly. The customer doesn't need to worry about the payment schedule, yet, will never miss a date.
UPI integration methods on website / Accept UPI payment on website
UPI payments are integrated into eCommerce sites in a variety of ways. The traditional method is to access the UPI SDK provided by the Payment Service Provider (PSPs) bank.
In Intent Payment, the payer/sender initiates the transaction. For example, you make a payment to a store by scanning a QR code.
In Collect Payment, the payee/receiver initiates the transaction. For example, the eCommerce store where you are completing a purchase creates a UPI collect request asking you to transfer the payable amount.
Here are some of the commonly implemented UPI integrations:
1. UPI intent flow
The UPI app is launched automatically in this integration, thus giving the customer a seamless experience.
Customers select the UPI payment option via their preferred app.
The VPA and the amount are pre-populated. The user need not remember or enter these details.
Users need not wait for push/SMS notification.
Two-factor authentication via UPI-PIN is carried out before the payment is made.
A successful payment notification is sent on the app or website.

2. UPI collect flow
This is a traditional UPI collection flow, which allows bank account holders to transact using VPAs without entering additional bank information. Standard steps followed include:
Select UPI as the payment option in the merchant app/website and enter a valid VPA.
Push notification/SMS on collect request is sent to the customer to verify with UPI PIN/MPIN.
When done, a notification is sent to the app/website.
3. UPI SDK flow
The UPI SDK is a framework for integrating the UPI payments method into your app effectively and securely. In the case of UPI SDK, customers need not open third-party apps to make payments. Using the UPI SDK, the merchant can receive payments to the customer without opening any third-party app.
To integrate the UPI SDK into your Android app, you must partner with the bank providing this service.
Only selective UPI enabled banks offering this flow are authorised to operate as PSP (Payment Service Provider).
For apps built on Native Framework, you can integrate the desired version of SDK as required by the feature. However, a plugin is needed for quick and easy integration for apps built on hybrid platforms – such as React Native Platform or Ionic Cordova Platform.
Nimbbl Magik UPI for businesses
Businesses often encounter human errors or technical inaccuracies that lead to incorrect business UPI ID entry, browser switching, and drops due to accidental cancellations. Nimbbl's Magik UPI helps prevent these with a magical payment experience for UPI ID based payment flows across mobile apps and browsers.
With Magik UPI, customers no longer have to remember or search for their UPI ID(s) during transactions. In this flow, your customers are magically presented with their eligible UPI IDs on the screen and they just have to choose the right one. Transactions are personalised, completed faster with higher success rates.

5 advantages of UPI transaction For businesses
1. Online payment made simple
You can easily integrate UPI solutions into your payment system. When using UPI for business, key features include streamlined business payments with instant authentication and quick receipt of transactions. Customers can pay online without entering bank account or card details. The VPA used for UPI payments secures banking details. The UPI option integrated into digital payments gives customers a seamless purchase and payment experience. Shoppers enjoy an efficient checkout experience too.
2. Ease of operation
It's easy, free and instant. UPI lets you transact 24/7; currently, up to INR 1 lakh can be transferred in a UPI transaction. The speed and transparency of UPI ensure faster and smoother payments, suitable for small and medium-sized businesses managed by one person.
3. Boost digital payment
Post Demonetization and the development in digitisation demand cashless transactions everywhere. India's reliance on physical currency is a hurdle for many business owners seeking digital payments. If you want a solution to switch between cashless payment collection and distribution, rely on UPI for digital payments.
UPI deposits instant payments into your bank account while customers pay you online via a mobile device. Leading players in the online business sector in India have made it big by using UPI for business as a payment method. By adopting UPI, you can get rid of the traditional cash-based payment collection process and start accepting online payments.
4. Universally adaptable
The payment option suits all business scenarios. The key features that make UPI distinct are:
Instant notification of payments,
Simple authentication,
Real-time tracking,
High-volume retail payments, and
Zero charges in a payment solution
These features address the needs of evolving businesses to deliver a simplified payment experience to their consumers. Also, no additional setup is required to avail of the benefits of this disruptive payment method.
5. Secured mode of payments
As per NPCI research, the trend in digital payment adoption in India is that one in every three uses an online platform for digital transactions. On the ground of security breaches leading to online frauds, people refrain from making online transactions, including card payments. The security concerns also limit businesses from accepting payments online. Businesses now rely on UPI for digital payments because it ensures the security of payment transfers. The handy usage of mobile-based payment methods is a better option for the majority. UPI accounts use VPA or UPI ID for transactions. Additionally, 2-factor authentication and end-to-end encryption add more safety to online payments for both customers and businesses.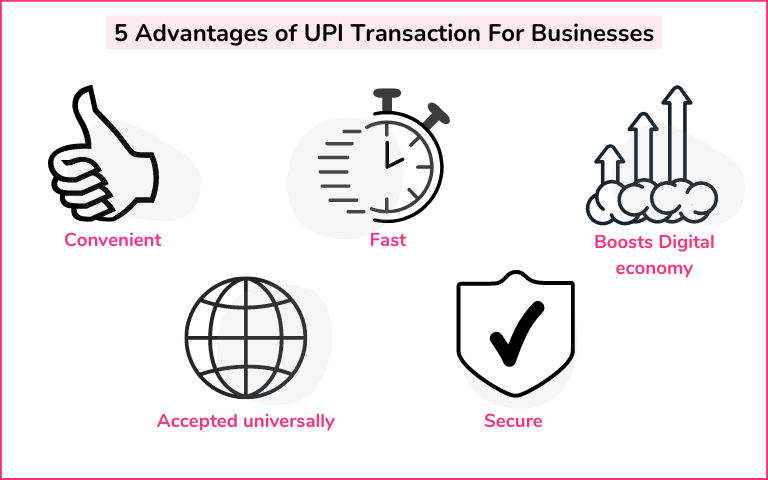 Conclusion
Lately, while the digital revolution is taking place, the national level business and banking sectors have accelerated the implementation of UPI Payment for Business.
The Reserve Bank of India (RBI) regulates the interface and monitoring of funds between two bank accounts on a mobile platform. It became one of the fastest payment modes in almost all businesses ever to bring financial inclusion to large users. Major industries using UPI infrastructure are not only limited to e-commerce, insurance and Ed-tech but spanned almost all sectors in the market.
Besides being secure, the key features, the simplicity in porting the payment system across geographically distributed points and the ability to do transactions at any time increased the rate of adoption in India.

FAQs
1. Can a merchant integrate all UPI solutions?
Yes, a merchant can integrate all UPI solutions. You can accept online UPI payments from customers via the leading UPI apps. With Nimbbl, you can connect with multiple UPI providers in a single integration. 
2. What are the charges for UPI for business?
As per the norms by the Government of India, the use of UPI payment is free. As for now, there are no charges for person-to-merchant transactions (and even for person-to-person). For eCommerce merchants, there's a technology fee applicable which differs between service providers. 
3. Which business industries use UPI infrastructure?
The user of UPI – a robust payments infrastructure is a lifeline to commerce links for several businesses living on large with online transactions. The major industries include e-commerce, Insurance, and Educational sectors. 
4. Can I accept UPI payments through both QR code & VPA?
Yes, you can access UPI through either your unique virtual payment address (VPA) or a QR code.
5. Can I accept UPI payments through UPI Apps on my website?
Yes, you can integrate the UPI payment gateway on your business portal and automatically bring UPI as one of the payment options to offer to your customers.